Hetal Saraiya is a founder of the Paathey Diet And Nutrition clinic. Because she is a Nutritionist, Certified Diabetes Educator, Sports Nutritionist, and Lifestyle coach. But with 7 years of experience in the field of Nutrition, she derives the greatest pleasure in transforming people's lives and seeing them become the best version of themselves. 
Born and brought up in Ahmedabad (Gujarat), she was taught by her father and her guru. But a great humanitarian, the importance of dedicating one's life to serving people. 
As a child, she grew up in a middle-class Gujarati family. But being on the heavier side, she earned the nickname 'JADI' (fatty). Not having the right knowledge and guidance, she would starve herself to lose weight in her teenage years. Because her immunity dropped, and she suffered from lung ailments. So, it was then she realized that 'we are what we eat. But hetal Saraiya thought to change my path. 
When she pursued a career in Food Science and Nutrition, she found the right mentors. Because she discovered that healthy eating, exercise, and yoga are the essentials to have a healthy body and mind. That led her to found my clinic, Paathey!. But now she shares the same lessons with her clients.
How did Hetal Saraiya come up with the idea for your business?
As a Grown-up into a Middle-class family where she was taught to do Job because Married to a Business family. But where her husband and Family want her To Work Independently, And their Paathey Diet and Nutrition Clinic has born. Paathey is the brainchild of her husband. But Mr. Harshil Saraiya is also an Entrepreneur.
What products and services Paathey Diet and Nutrition are offering?
Paathey Diet and Nutrition offer the:
Weight Management Program: For who would like or lose Weight or Gain weight.
Weight Management with Medical Condition: With Medical conditions, who wants to achieve a health goal.  
Fitness Enthusiastic Program: For Men and Women Who wants to improve Fitness Levels.
The Winning Connections: The Performance & sports Nutrition Program: For the Athletes and Sports Persons competing at University/state/national/international Levels.
Where is a startup based (city, state, country) & what are the geographical target areas?
It is based in Ahmedabad, Gujarat, India. And are Located in Pan India As she offers Online counseling to the Whole World.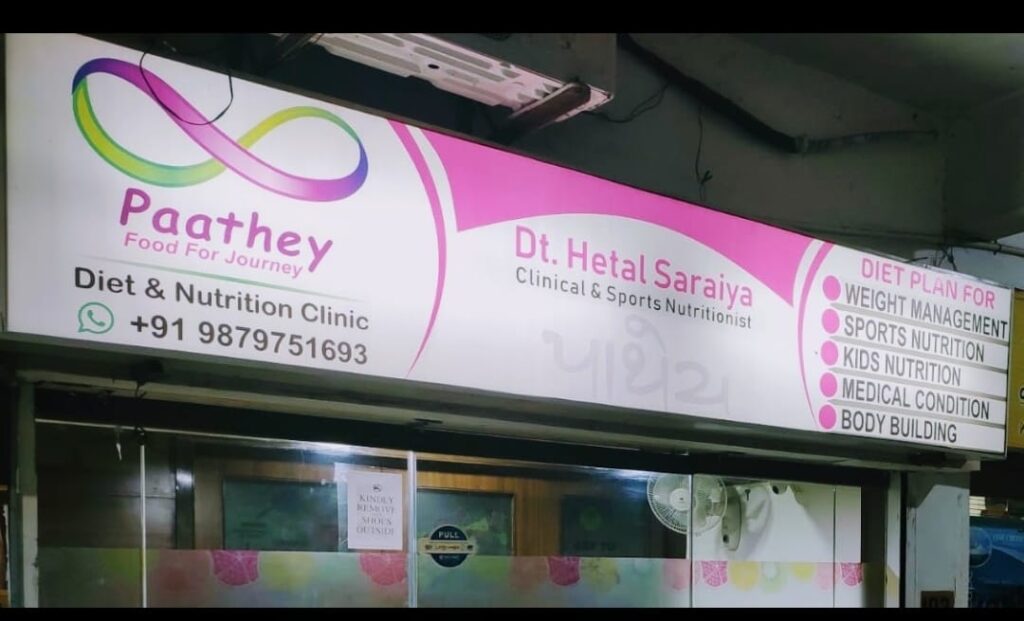 Some of the achievements owned by the Paathey Diet And Nutrition
Won a second prize for Poster presentation "A study on Awareness and Importance of dietary intake during Pregnancy" in NUTRICON on 2nd & 3rd March 2013 at HCG Hospitals, Ahmedabad.
Won special appreciation prize for Poster presentation "Health Status of Expectant Mothers" in 8th National Conference of Diabetes in Pregnancy Study Group India (DIPSI) on 16th and 17th Feb 2013, Ahmedabad.
And Won special Appreciation price as "Best Performer Nutrition Advisor" in West Region for Abbott Healthcare Pvt. Ltd. On 16th August 2013.
Awarded As BEST DIETITIAN IN AHMEDABAD By Best Rated Doctors in March 2018.
Contact Details
| | |
| --- | --- |
| Business Name | Paathey Diet And Nutrition clinic |
| Headquarter | Ahmedabad  India |
| Founders | Dt Hetal Saraiya |
| Sector/Industry | Health Care ( Best Nutritionist Of the Year ) & Women Entreprenour of the year |
| Founded (month/year) | 15-9-2016 |
| Contact Detail Phone & Email | 09879751693 hi.paathey@gmail.com |
| Website | https://www.paathey.in/ |