Orgenik.com is an e-commerce platform developed by Orgenik E-commerce Pvt. Ltd. that offers a wide range of organic and natural products directly from farmers and local producers in India. Orgenik also stands for everything it embodies and is solely created for making the people of India healthy and the backbone of India, the farmers, happier. Orgenik has tie-ups with the Farmer Producer Organisations (FPOs), Local Farmer Groups that produce organic and natural products.
This helps farmers and local workers of the country benefit from the company's economy and vice versa. This brilliant concept for an e-commerce firm was founded by Dhairya Shah, Monisha Shah, and Rajesh Patel. The three of them together look after the business by verifying the site of production, certifying the products, and conducting lab tests on the products' authenticity. Apart from this, the platform aims on showcasing products with GI (Geographical Indication) tags and such natural and organic traditional healthy products that are on the verge of extinction in India, and are not commercially viable in the market. The platform will also be engaged in marketing such products and spread awareness of such healthy products in the international market. By this, farmers will be encouraged to produce more and increase the supply of such products in the market.
Career Beginning & Business Venture
Dhairya Shah is a graduate of BBA from Ahmedabad University. He is currently pursuing a postgraduate diploma course in Investment and Financial Analysis from Gujarat University. Further, for advanced level system management and constant innovation of the platform at international level, he is planning to study MBA from a business school in abroad and then do a Ph.D. in Development Economics, in order to study the economic aspects of developing nations. He will be launching and implementing the operations of the platform in abroad during his study period.
The idea of Orgenik came to him when he was in the second year of college. The internship at Deloitte on the Organic Food Industry project in India especially fuelled his desire to start Orgenik. Since the age of 16, Dhairya was reading up on its history and analyzing the trends of the agriculture sector in the economy. The current affairs in the agriculture sector and the state of farmers in India troubled him and further pushed him to take up an initiative that worked towards their welfare. Dhairya and his sister approached their father with the idea of Orgenik, who have a cumulative experience of over 15 years in the agriculture industry.
How it all started?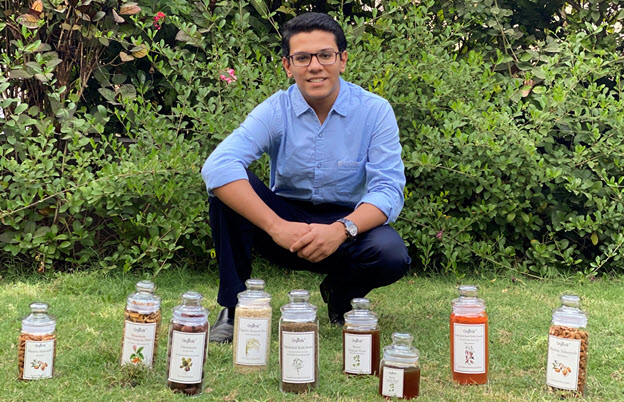 Realizing that the farmers of organic products in India were receiving subsidies for the production but did not have any proper or specific access to organized marketplaces or mandis for organic produce to sell their organic products, while on the other side the consumers were getting exploited for the organic and natural products due to its high prices, bad quality, lack of awareness, and transparency. He decided to take upon the idea to create an online platform that will give farmers the best rates for their best quality organic and natural products and offer them directly to consumers at fair prices.
Thereby connecting farmers and consumers both on one platform for buying and selling of genuine, authenticated organic and pure natural food products. Dhairya has initiated the development of the platform of organic and natural products of India to an international audience. He firmly believes that modern problems require a modern approach to them. Thus, he has made sure to include a good deal of social media marketing for Orgenik to thrive on during the pandemic. Orgenik has a business model that showcases Dhairya's belief in the collaborative business model.
Vision & Mission
In the future 2030, Dhairya plans to extend his business with firms that are sustainable, environment-friendly, reliable, and capable of good investments and support. He wishes to see himself play a revolutionary role in the lives of farmers in India, and would try to bring an Organic Agricultural Revolution in India by 2030 where farmers across India would adopt modern techniques to produce more organic, natural food products and consumers would consume those genuine organic Agricultural and pure natural food products in their daily life.
At present, Dhairya is working with 25 FPOs simultaneously and is in talks with collaborating with more than 100 FPOs. He gathers his inspiration from his maternal grandfather and his father. According to him, both of them motivate him to strive for bigger goals in life. Apart from that, he gathers inspiration from Dhirubhai Ambani, Elon Musk, and Mahatma Gandhi. Dhairya, who has been up to date on the nation's history and everything there is to know about the agriculture sector, is committed to dedicate his life to do more in this sector by applying advanced technology in traditional agriculture practices.
Dhairya reads up on the current affairs, Indian economy, politics, and business news to keep him updated with the time. He also likes to play video games and watch movies in his free time, but he keeps his weekends for social gatherings. Dhairya advocates the path of societal benefit and welfare. Dhairya wants to share a message to the people of India by stating, "Industry is the secondary sector of the economy and is having its 4th revolution that includes automation of traditional manufacturing by using modern technologies but on the other side, we all are ignoring our primary sector that is agriculture.
Indian history says that agriculture had a green revolution, blue revolution, white revolution, and so on, and they were all introduced at the right time based on the needs of the people, but currently observing the issues of farmers like debt-burden due to lower incomes, and issues with consumers like getting exploited by paying high prices, and obtaining bad quality food products full of chemicals and pesticides, it is an urgent need and a high time to create an Agricultural Revolution in the country and according to me that would be an Organic Agricultural Revolution which can solve multiple issues of farmers' low income and consumers need for best quality healthy food products and all this with the help of modern farming techniques, and technology for both farmers and consumers to gain awareness, buying and selling, and so on". Dhairya wishes to bring in a big revolutionary change in the Indian socio-economical scenario and hopes that every youngster will understand his message and work towards the need of the hour.  
Contact & Follow Orgenik.com: