The Cleaning Company founded by Mr. Shahnawazz Sirajali Sumarani who is the son of a businessman running a grocery shop in Una, Gujarat in the year 2016 which has 400+ employees at the sales revenue of 5 crore every year. Shahnawazz graduated from the GLS Institute of Commerce, Gujarat University, and a big fan of cricket and other sports.
The Cleaning Company is a provider of contractual and one-time cleaning and maintenance services with a strong focus on delivering both consumer-facing and business-facing solutions. The Cleaning company excels in building amazing relationships with their customers. They are offering an absolutely great time-saving services. The professional team of the Cleaning Company is best in its job at very affordable rates.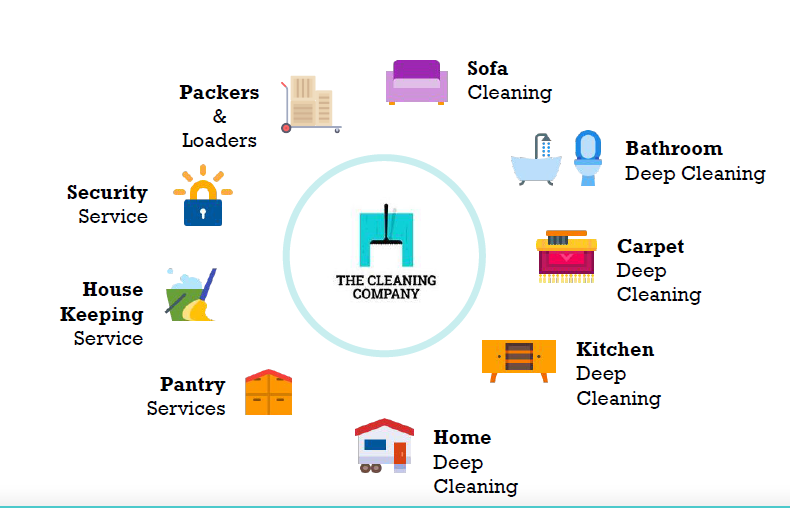 The Cleaning Company provides two types of services one is housekeeping for corporates, Industries & Showrooms and another is Deep Cleaning services. In addition to that The cleaning company also provides other cleaning services like carpet cleaning and sofa cleaning. As the name says they believe in a clean environment which is a healthy environment and as said by great people "Cleanliness is next to Godliness".
How did you come up with the idea of THE CLEANING COMPANY?
I was working in Nexa (Maruti Suzuki Company) and when I saw the agency that Nexa hired for cleaning, they weren't professional and at that time I thought I could do a better job by bringing in professionalism to the cleaning service industry.

This is How the Cleaning company born.
It took me around 3 to 4 months to set it up and in the initial days, we started working from a cafe because we were not having office and we were on to generate enough income to have our office.
What was the most challenging part of your journey of THE CLEANING COMPANY? How did you overcome that challenge?
The most challenging part was to recruit unskilled labor and get them to work professionally and we overcome this challenge was by constant and rigorous training.
How do you plan to market THE CLEANING COMPANY products and services?
We use many different strategies but mainly in this digital age we use digital marketing.
The best marketing practices is networking and building up on references as well as having a good sales manager who can actually go out there and inform people about our company.
Who are your competitors and what is your competitive advantage?
There are many small and big companies that are our competitors we try to stay ahead of them by being consistent with our work, quality, and services. As in this field, consistency is important.
Well-defined SOPs, Punctuality, 24 x 7 x 365 Service Availability, following Industry Standards, Highly Trained resources are some of the competitive advantages we have.
There are many stories and instances we have come across the fact that we get a lot of positive feedback from our clients and that actually strives us to do better every day. Most memorable ones are the people who move to new homes and hire us for deep cleaning when they enter their home and smile after looking at our work that's just the best feeling as we know we have done it right.
What is your larger goal or vision for THE CLEANING COMPANY?
To get cleaner environment and to be able to provide jobs and training for the less fortunate among us. By doing this we can expand all over India and work together to build a better and cleaner society for our future generations.

The cleaning company Vision
Currently we have 400+ employees and we 2x Revenue and Gross Profit Growth year on year. Now, we have planned transition to a Franchise Model and Aiming for 700+ employees over the next year.
What expansion plans are you looking for the next 5 years, next 10 years?
In the next 5 years we plan to expand and cover 3 states – Gujarat, Rajasthan and Maharashtra.
In the next 10 years, we will be able to cover most of India.
My Dream is to be bigger than one of my biggest competitor in this industry that is the ISS Facility Services, they are spreading around the world and I would like to be their competitor.
Do you consider yourself successful and by what means do you measure success?
Considering I deal with many people from all walks of life I do see myself as the glass half full kind of guy which makes me lean toward the success side of life. There are many ways to measure success it depends on how u look at it.
Whom do you consider your idol or biggest motivator?
I do not have an Idol but my biggest motivator is my environment and the less fortunate people we see every day begging for money. I would like to see them with jobs however menial it's still better than begging. When we go abroad we hardly see any beggars and I would like to see India in the same light.
How your current profile has transformed you as a person?
Since I have started this company my thoughts have changed as I met and understand the less fortunate people better. I feel humbled and blessed every single day for being able to run this company and help people.
If you had the chance to start your career over again, what would you do differently?
Nothing differently, every day I learnt something from my mistakes as well as my achievements so I wouldn't change anything.
Tell us more about your team and uniqueness of Human Resource Management culture at THE CLEANING COMPANY.
We are a people person so when we hire, we look for people who actually enjoy working together. Some of the skills we look for are team player, and something we are very adamant about is time management and punctuality this is very important for our company and the rest of the skills is based on the job profile they are applying for.
We here would always hire and grow as we believe we are promoting cleanliness as well as providing jobs for the unskilled labours, we give them training and groom them appropriately as we feel this is the basic requirements for one to start when they go to work.
Our Human resource manager and team, we all feel blessed cause we actually are doing good for the society; we do use biodegradable products as well for our cleaning which makes us feel responsible towards our planet as well.
The culture we would promote in our company is '' Cleanliness is next to Godliness''
Anything, you would like to say to Young Entrepreneurs and Startups?
Dream Big, Rise Early and Work Hard – this will pave your way towards your dreams.