Even though Ravi Patel has achieved 81% marks in SSC he decided to take Commerce/Common Stream while parents forced him to take Science and he started studying Science stream. He took Chemistry as the main subject and after completion of graduation, he started a job in one of the color/paint making industries. He has changed 5 jobs in a period of 5 years. During his job, he wrote four books and published several articles in the Divya Bhaskar, Achala, and Nirmala Gujarat newspapers and magazines.
From childhood, his nature was to help others and because of this mindset, he was not able to focus on the work and every day seniors and boss was complaining and shouting like "don't come office from tomorrow", but due to family's economic condition he had to continue the job. One day he made a mental and decided to leave the job and to start something where he can help others as well as earn so that he can support to the family.
Ravi started Selling Insurance, and in a few days, he became an agent of LIC of India i.e., Life Insurance Corporation of India which is India's No. 1 Life Insurance provider company. In 2007 with a lot of energy and excitement to meet new people every day he started his journey and he has fully focused and given dedication to the work. By 2018 he met more than 12000 people with a satisfied client base of 3000 or more.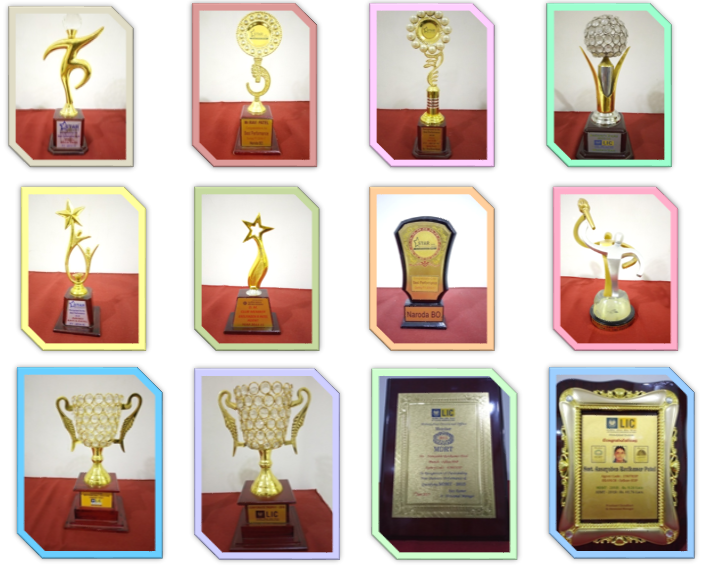 So far Mr. Ravi Patel has been awarded more than 13 times and especially in the year 2015 and 2018 he has been awarded and recognized by MDRT USA which is The Million Dollar Round Table (MDRT) trade association formed in 1927 to help Insurance brokers and financial advisors to establish best business practices and develop ethical and effective ways to increase client interest in financial products, specifically risk-based products like life insurance, disability and long term care.
The time-line of Mr. Ravi Patel's growth is shown below:
2009: Purchased a house to sit and work (part of investment)
2010: Hired first employee to help him in his work
2011: Hired an office on monthly rental
2012: Purchased his first car and distributed 600 packets of sweets among the clients and relatives
2013: Purchased a bungalow with 200 Sq. yards area
2014: Purchased own office and as a grand celebration invited 1000+ clients for the dinner
2015: Organized all clients meeting along with the program by Shri Ashvinbhai Joshi to guide people on the subject "Maa-Baap Ne Bhulasho Nahi"
2016: First foreign Trip
2017: Second foreign Trip with Family on Vacation
Currently, Mr. Ravi Patel is running his business with the name of "Anyray Investment Inc." in Ahmedabad, India.
Acknowledgments:
"I want to recognize the support of my parents, Shri Swaminarayan Mandir Vasna, IOE association, My first Economy Guru RaseSH Dhaduk, Sureshbhai shah, Jigar Patel, Ishan Shah and my friends Axay SHAH, Hemant Thakkar and Sudhir Modi and my wife Ansuya, my daughter Prathana, my dear clients and relatives whose efforts have made this possible."