LEGALWIZ.IN ACHIEVES 5,000 PSTs (PAID SERVICES TRANSACTIONS) MILESTONE
Ahmedabad, India, September 17, 2018: Legalwiz.in, the business advisory today crossed the 5,000 paid services transactions milestone. Started in April 2016 to cater to the Startup & SME segment; Legalwiz.in enables legal, financial, corporate & taxation compliances. Enabled with a robust technology backbone, every step of the process is online to ensure efficiency, transparency and maximum value.
Shrijay (Founder, Legalwiz.in) is a StartUp veteran, with over a decade's experience in ecommerce and 8+ years in LegalTech. A strong background in consumer ecommerce & digital marketing has seen Shrijay successfully work through every stage of the StartUp cycle from Founding to Unicorn status, with stints at giants like Legalzoom, and Qualcomm and also hyper-growing eCommerce ventures like Bouqs.com, meundies.com.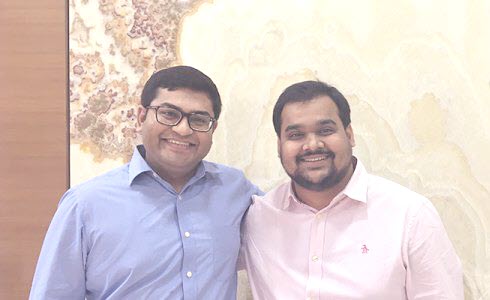 A strong base of 2,500 customers and an incredible 9.5 % referral score have put the firm on a fast growth-path. Also, 50% of the firm's business comes from repeat customers – a testament to the quality of service and customer satisfaction. With an increasingly national footprint, Legalwiz.in aims to ensure ease of doing business for entrepreneurs to ensure a level playing field.
Speaking on the occasion, Mr Shrijay Sheth, Founder – Legalwiz.in, said, "Our core mission of ensuring transparency by leveraging technology has begun to yield results. Leveraging my immersive decade-long experience in LegalTech in the evolved US market and then in India has helped us, and we have been able to build a team that stays excited about living up to client's expectations and beyond. I was very clear – I wanted to help people focus on building their business, serve their customers and deliver better services/products. We started with a clear thought process to make it all simple, affordable and transparent for startup owners, and cut out all the ambiguity. Transparency, digitization and timely access to services is in line with the Government's vision and we are providing these services at great pricing.. Being compliant need not be complex or time-consuming- ".
Elaborating further, he added "Based on the very encouraging response from customers, we are targeting 15,000 PSTs (paid service transactions) next year. Our qualified pool of advisors – Chartered Accountants, Lawyers, Company Secretaries – are committed to offer the best-in-class service to customers. In contrast to some larger online service provides, we prefer to work with a small but carefully vetted network of trusted professionals who make our services available across all major cities of India. We are justifiably proud of the training we provide: this coupled with their technical domain expertise, ensures that our advisors offer solutions as required. We stand committed to provide a transparent pricing structure and 100% satisfaction or refund guarantee to ensure a level playing field by serving StartUps & SMEs."
Targets 15,000 PSTs next year
Scores 9.5/10 unfiltered referral score [400+ Reviews across multiple platforms]
About Legalwiz.in:
Legalwiz.in is a StartUp based at Ahmedabad. Founded by serial entrepreneur & technocrat Shrijay Sheth, the firm offers legal, taxation and compliance services to StartUps & SMEs.