Airmeet-From attending in-person meetings and hosting offline events to attending online meetings and hosting virtual events, we have witnessed massive evolution in the technology sector in the past few years.
Amid this, the COVID pandemic has also contributed its bit in this take as people now work and socialize online through various online video conferencing platforms such as Zoom, Microsoft Teams, GoToMeeting, and others.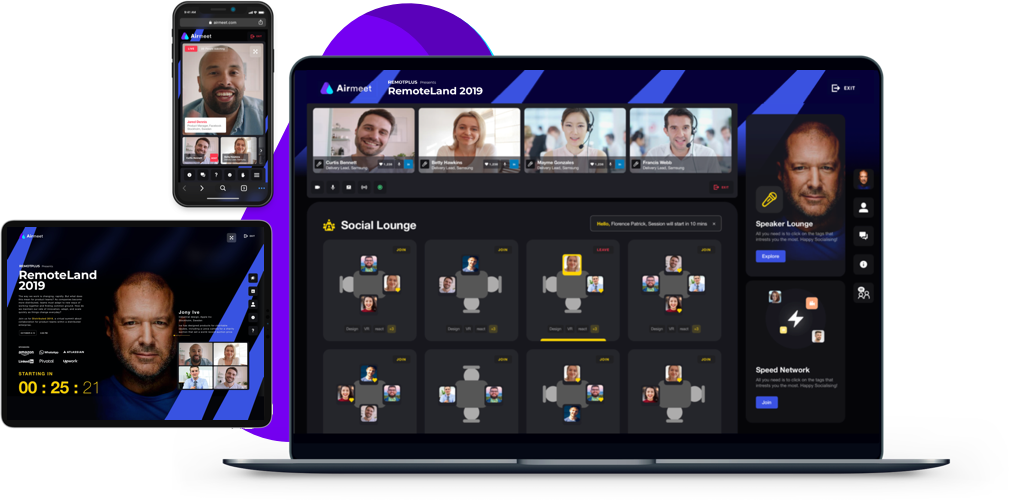 Airmeet – The Ultimate Solution
But socializing over a video conference can't suffice the large gathering events that used to take place before the pandemic changed our lives. But now the challenge to host virtual events with a large number of attendees is emerging for the event organizers, which Airmeet is solving.
Founded in 2019 by IIT alumni & ex-Commonfloor Co-Founder, Lalit Mangal with Vinay Jaasti and Manoj Singh, Airmeet is an all-in-one platform that hosts highly interactive virtual meetups, company events, workshops, and webinars. It hosts remote events and helps build real connections.
As a platform, Airmeet is able to accommodate meetups or events of all sizes ranging from 10 to tens of thousands, and more.
For anyone who's looking to organize highly interactive and engaging virtual events, Airmeet is the one stop solution. It hosts virtual events that encourage immersive interactions and provide attendees with a more luxurious and visual networking experience like that of an authentic in-person event.
Airmeet Under Recognition
Having launched its alpha product in November, Airmeet started hosting some public events on the platform. A few of their participants started tweeting about the brand, and this was brought in the notice by its early investors, and that's how the company raised $400,000 in a seed round.
This ushered towards the time when the entire world was struggling with the pandemic, and the founders closed a deal on a seed round of $3 million after a discussion they had with investors over the Airmeet.
Airmeet vs. Zoom
Personally, I've never heard anyone saying 'wow' while video conferencing on Zoom unless they put up an absurd virtual background. However, with its visual networking experience, Airmeet creates that 'wow' moment for many of the attendees.
As when many of the companies turned their operations to work-from-home, video conferencing app Zoom spiked from 10 million users to 200 million users within three months and witnessed a hike in its share price. This sounds surprising and stupendous!
But Zoom has also been associated with some security concerns due to which the Indian Government has issued an advisory against Zoom calling it an unsafe platform to host virtual conferences and meetups.
Why is Airmeet India's Answer to Zoom?
After dealing with Zoom's security concerns, Airmeet is the ultimate solution for all the problems faced while hosting virtual conferences, meetups, or online events. Below are some exciting features that Airmeet supports and through which it carries numerous perks of using the platform.
Built for events of all sizes
From hosting internal team meetings to hosting large scale virtual events and multiple-sessions seminars, it can all happen at Airmeet.
No Download
No software is required to be downloaded. You can use the platform in any browser with ease and get a high-quality HD live broadcast & networking experience.
Ease-of-use
The product is simply easy to use as you can quickly join an Airmeet through any device. It works well on all modern browsers.
Robust Security and Privacy Features
The platform features end-to-end encryption and GDPR compliance with cloud storage to secure all the communications you had. It also features guest authentication and chats moderation to ensure spam-free discussions.
Another exciting way to make it more secure is that it requires no App to download, so one is nosing on your data or requesting permission to gain control (better we don't dive in a tech-loaded pool).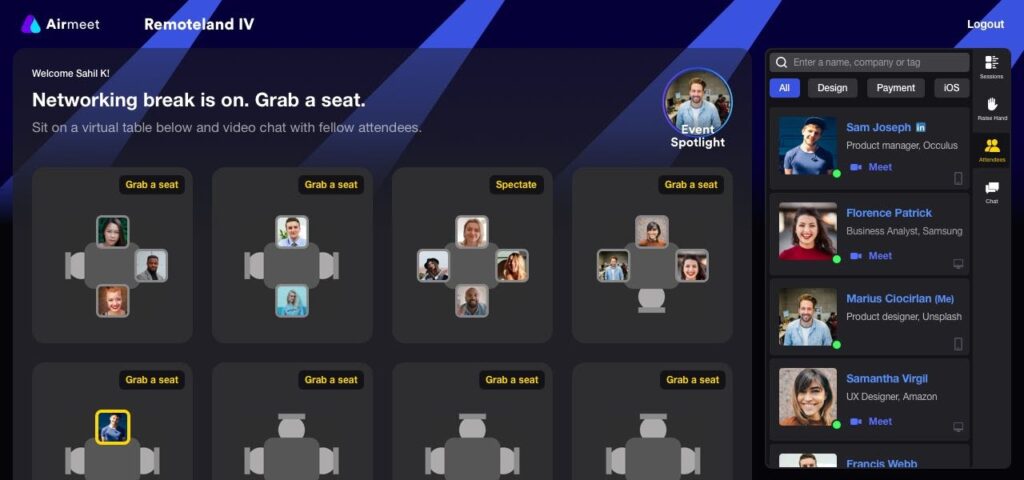 Social Lounge
Why are you attending the virtual event? To gain some knowledge and expand your networking, right? Well, this is the place where you actually meet new people (other participants). You could join a table and meet a group of random people attending the event over a video call.
Also, you can hop onto another table from one table and find like-minded people to have those mind-striking conversations. The networking session continues until the entire event gets over, so it helps you and your attendees build real connections.
Raise Hand
While the live broadcast is going on, and someone has a question to raise. Your attendees could "Raise Hand" and come onto the stage where they can directly talk to the speaker and everyone on video. Well, I guess, what else could be the better way to reward the kind people who ask genuine questions!
Quality and Scale
Without compromising on quality, Airmeet events can auto-scale as your attendee count increases. Powered by Agora.io, video communications on Airmeet has the potential to support upto 1M connections.
Multi-speaker sessions
If you're hosting a large scale event that could go on for hours or days at a stretch, you participants don't need to register again and again for each session as Airmeet supports multi-speaker sessions.
Now let's have a look at how with the help of such amazing features, Airmeet reinforces your event by rendering you with these perks.
Easy and brisk event set-up and download-free registration to join an event or meetup.
HD-quality video and audio enhances the overall experience of attending the event.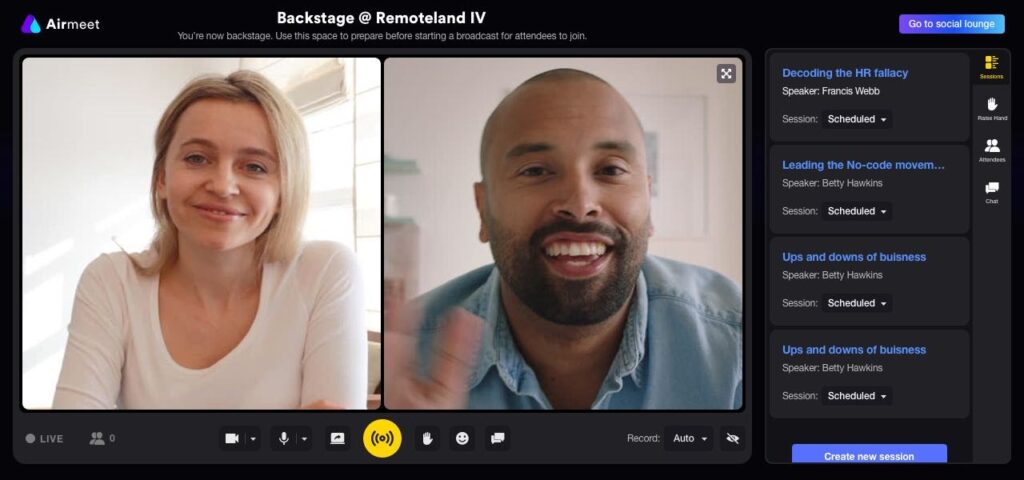 Automatic video recording of the live event session at no cost.
Add an event to your calendar with a single click.
Hassle-free screen sharing.
"Social Lounge" allows attendees to expand their network by deriving a more luxurious and visual networking experience.
"Raise Hand" to put up a query to the Host/Speaker and hop onto the stage.
From creating an event to going live, get end-to-end support, and training.
Allows up to 16 feeds simultaneously on-screen, without compromising on the focus on speakers.
No more Zoombombimg: "Zoom bombing" refers to the breach of privacy happening on Zoom.
Conclusion

Focused more on building the product for events of various formats, Airmeet is proving the best to be the ultimate solution not just in India but also on a global scale. What more could you ask for in a virtual event platform than this?
If you're planning to host a virtual event in the upcoming days, then you can book your free demo today! Also, I would love to read your insightful feedback in the comments below!