Empresario Startup Summit 2020 is the 9th Annual Flagship Event of Entrepreneurship Development Institute of India, Ahmedabad. It is an exclusive platform for startups, new age entrepreneurs, industry mentors, investors and the student community to come up at one place, explore their entrepreneurial endeavors and experiences, gain amazingly new insights, and pledge to become a valuable part of the ever flourishing startup ecosystem in India.
Empresario Startup Summit has always been completely focused on startup related competitions and events that see a huge turnout of Angel Investors, startups and students from pan India, who participate in events like Speaker sessions, Panel discussions, Workshops, Pitching events for startups and competitions.
This time again we are bringing multifarious events to provide a big boost to the Indian startups ecosystem and provide a perfect launchpad to the budding entrepreneurs and the startup ventures from all over India. We have been growing not just in footfalls and popularity but also in the overall impact we have on the Startup community.
Key Attractions of Empresario Startup Summit 2019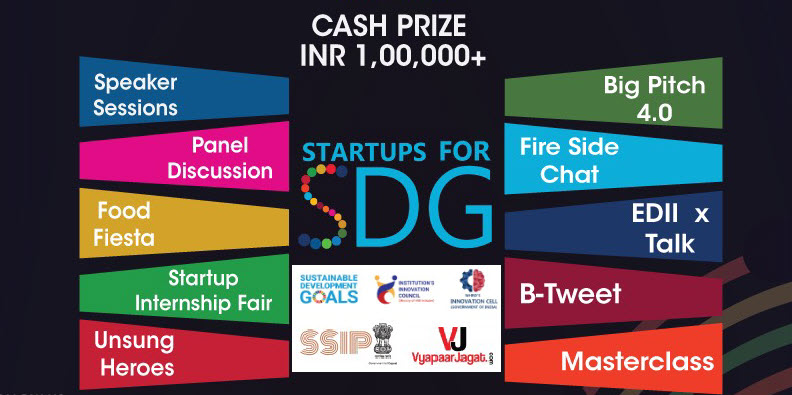 Speaker Sessions
Panel Discussions
The Big Pitch 4.0
Fire Side Chat
Startup Exhibition
Startup Internship Exhibition
Competitions (Online & Offline)
Here it goes the exciting events – Come and join us to explore Infinite Opportunity to Ignite Your Passion.
Big Pitch 4.0 – Closed door pitches by top startups in the country to 25+ investors from India. 15 minutes closed room pitching can change your life forever. Special Considerations would be given to startups contributing to SDG.
Win Cash Prizes- (in addition to investments)
1st Prize- INR 40,000
2nd Prize- INR 30,000
3rda Prize- INR 20,000
Special Prize – INR 10,000
Register now for BigPitch 4.0 – https://rsvp.hubilo.com/empresariobigpitch4
(Last Date- 28th Feb)
Startup Exhibition: Exhibit your innovative product or service to the right audience and get connected to your prospective clients and investors. Grab the opportunity for an unparalleled brand visibility.
Register Now – https://e1465.hubilo.com/ticketing/#/ticket
(Early Bird Offer-INR 5500, Actual Price INR 7999)
Startup Internship Fair: If you are a startup looking for eligible interns or you are a student looking for exciting internships this is the right platform for you. We provide a platform for both startups and students to collaborate with each other.
Startup: https://rsvp.hubilo.com/Startupsforinterns
Student Interns: https://rsvp.hubilo.com/StudentInterns
And many exiting events – Speaker Session, Panel Discussion, Fire Side Chat, Unsung Heros, food Fiesta and many more
Visitors Free Registrations: https://e1465.hubilo.com/ticketing/#/ticket
Follow us on all Social media @ediiempresario for regular updates. Visit www.ediiempresario.in for more details and updates.
About EDI
Entrepreneurship Development Institute of India, Ahmedabad is an autonomous organisation set up in 1983, that has been rigorously promoting and developing entrepreneurship ecosystem in India and across all its centers around the globe.
The premier institute has since emerged as a hub for 1st generation aspiring entrepreneurs as well as 2nd generation entrepreneurs. With the rise of the Startup Culture in India, EDII has also been giving its contribution in multiple ways. Empresario Startup Summit is one such event through which we at EDII are trying to help the overall startup community.