We are a matter of great pleasure to introduce "India's First Smile Makeover in Hour Salon type Ambience Smart Clinic concept "Smile in Hour®" as one of Its Kind "Unisex" Ultimate Health & Beauty Service Organisation. Founder Dr. Bharat Agravat India's iconic Oral Implantologist is the personification of natural flair and magnetic charisma coupled with an inborn talent in the field of cosmetic and implant dentistry more than 20+ years experienced and 18 award winner brings to you wide and amazing range of Smile Makeover – helps to enhance beauty within you.
SIH offers New age leisure cosmetic dental spa along with transforming dentistry through our innovative integrated approach in providing comprehensive solutions to all dentistry treatment available & Many more services – which adds up a brand new smile.
Simile in Hour Salon Centres, one of the pioneers in the genre of Aesthetic and Implant Dentistry, is a perfect abode to make your smile beautiful. With its highly skilled & reputed panel of specialist dental surgeons, the center offers a wide range of specialized services by crafting super stunning smiles.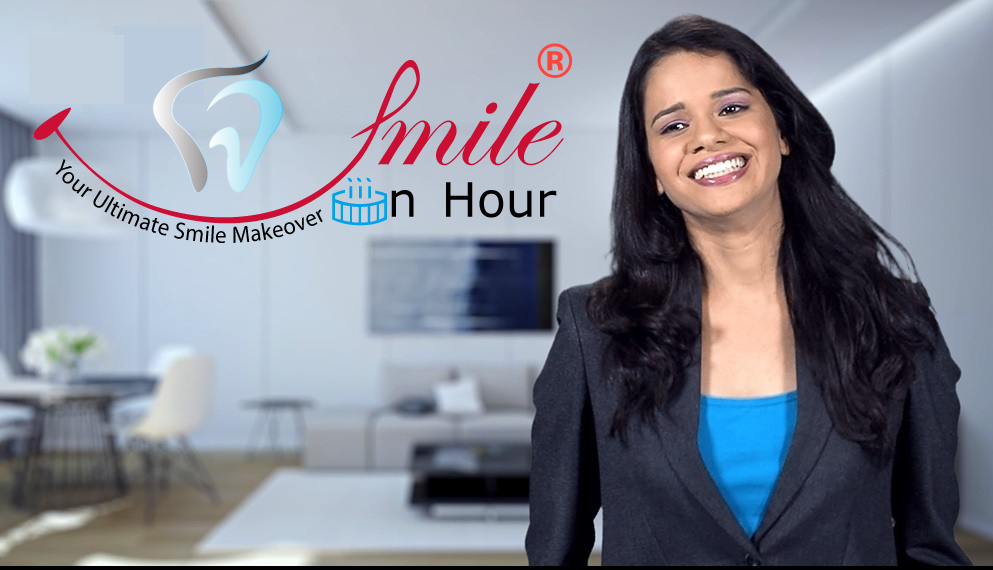 Founder Dr. Bharat Agravat Pioneer in Dental Tourism India since 1999 and set a World Record. Smile in Hour® Centres has become one of the front-runners in the newly emerging market of Dental Tourism. There is an increasing demand for high-quality dentistry, full-mouth reconstruction treatments, and cosmetic dentistry in India. He identified this gap early and has been setting new benchmarks in cosmetic & implant dental care and exceeding client expectations consistently.
The Hollywood smile makeover, Bridal/Groom Wedding Smile Packages, Whiten Your Smile, Ramp Ready Smile Makeover, Selfie Smile Makeover, Smile Rejuvenation, Invisalign clear braces, Veneers, Single visit Root Canal, Same Day Implant, Teeth in an Hour™ and Computer Guided All-on- 4 Dental Implants procedure (No Incision, No Suture, No Bleeding, No Pain same day fix teeth), Same Day Implant, Teeth in an Hour™ are few of their popular services.
"Smile in Hour®" is headquartered in Ahmedabad, Gujarat. Dr. Bharat Agravat is the Founder & CEO of Smile in an hour Salon. As of January 2020, smile in Hour has 9k fans on Facebook, 4.5K followers on Twitter, 4.5K followers on Instagram, 2.7K followers on LinkedIn 1800K Subscriber on YouTube, and 250K followers on TikTok.
Dr. Bharat Agravat Cosmetic, Laser & Implant Dentistry World..
Dr. Bharat Agravat Cosmetic and Implants Dental Surgeon setting new benchmarks of excellence with 18 distinguished awards, 20 years experienced. He is belonging from a well-known family of specialist doctors, Dr. Agravat Group. He is a Graduate from the prestigious Government Dental College and Hospital, Ahmedabad, Gujarat, With an American University they have now scaled new heights and achieved cutting edge knowledge with the latest in implant dentistry in the world.
Clinical Mastership in Implant Dentistry from New York University USA. (Gujarat's First)
Advanced Education in Implant Dentistry at Harvard University School of Dental Medicine USA (Gujarat's First)
Min-Residency in Advanced Endodontics from University at Buffalo USA. (Gujarat's First)
Online Externship Implant Fellowship Program with DentalXP & NYU Dentistry at Atlanta, USA. (Gujarat's First)
"World Records India" holder for Dental Tourism. "First Time in The World & India's First" Dental Travel Android Mobile Apps.
Patented Innovations in Cosmetic & Implants Dentistry related Product "One Touch Smile"
Diplomate & Fellow at the International Congress of Oral Implantologist – DICOI & FICOI, USA
Fellow and Executive Council Member of Indian Society of Oral Implantologist – ISOI
Expert Authors from Ezine Articles USA. (India's First)
Associate with International Organisation like "American Academy of Implant Dentistry-AAID
Ex Lecturer at Darshan Dental Collage in Udaipur, Rajasthan and Mahadevia Dental Collage Ahmedabad, Gujarat.
Former President of Indian Dental Association (IDA) and MTV Medical Association Ahmedabad India.
Dr. Bharat Agravat is an award-winning dental surgeon having received the Prestigious Award by:
Gujarat state Governor His Excellency Krishnapal Singh,
Gujarat state Home Minister Shri Amit Shah in year 2007,
Gujarat state Educational Chairman Shri Suresh Patel in year 2007.
Government Dental Collage & Hospital Dean Dr. K H Shah, Ahmedabad.
APMC Vice Chairman Shri Hitesh Barot in year 2007.
Accelerated Dental Learning Center (U.S.A.) in year 2006.
"YOU ARE THE PILLARS OF PERFECTION" Committed to Dental Excellence given by the President Dr. S.G. Damle Indian Dental Association in year 2006.
Indian Academy of Aesthetic & Cosmetic Dentistry in year 2003.
Dr. Bharat Agravat is considered as one of the best professional cosmetic implantologist in Ahmedabad Gujarat India for providing top-class dental treatments in India since 1999. He offers a comprehensive range of Cosmetic, Restorative, Endodontics, and Child Dental Care treatments, and Dental Implants.
Patient Reviews and Testimonials Smile in Hour
Contact Dr. Bharat Agravat
 ? : http://www.smileinhour.com      
UK : http://www.smileinhour.co.uk
AUSTRALIA: http://www.smileinhour.com.au
INDIA : http://www.smileinhour.in 
 ✔️Facebook Page : https://www.facebook.com/smilenhour  
✔️ Twitter : https://twitter.com/smileinhour
✔️Instagram : https://www.instagram.com/smileinhour   
✔️Linkedin : https://www.linkedin.com/showcase/smileinhourdentistreviews
✔️ TikTok:  https://www.tiktok.com/@smileinhour
✔️ Telegram: https://t.me/smileinhour