Ever since Liberalization Privatization Globalization (LPG) reforms, the IT sector has been contributing heavily to India's GDP. From contributing 1.2% in 1998 to contributing 7.7% in 2017 in India's GDP, India's IT sector is becoming better and robust year by year. TCS was the first Indian IT company which was started way back in 1968. But in the 1990s onward, there was a boom in the IT sector and after the emergence of the Internet, Mobility, Android and 3G, there is literally no stoppage to the rise of startups! Thousands of startups are being established all over the country every year. India has never seen such a surge in startups before.
Some Indian IT company's story seems special in this regard. IT company in general and Indian company, in particular, has something novel to speak of & exceptional services to offer. We are presenting you with one such phenomenal story of Indian IT Business FUSION INFORMATICS LIMITED.
Fusion Informatics Limited is a Mobile and Web development company. They have 19+ years of experience in providing top-end IT services and solutions for clients across multiple industries. They have developed more than 1000+ applications to date!
Fusion Informatics has proven experience in delivering transformative agile software development services to industries spanning across 31 sectors like healthcare, education, retail, manufacturing, banking and finance, real estate, hospitality and even more. For 19+ years now, they have been empowering start-ups, small-medium businesses and enterprises across key industries in India, USA & UAE and have more than 100+ global clients. They help companies to chart out the digital transformation journey to stay ahead in today's competitive market.
EARLY DAYS AND BUSINESS VENTURE
Mr. Ashesh Shah, the co-founder & CEO of Fusion Informatics Limited shares his journey –
Mr. Ashesh Shah started his career journey in 1998. After completing his Business Management Degree (Specialization in Marketing – MBA), followed by a Computer Application degree, he did a job for a year starting at mere Rs. 2700/- per month. Though he was promoted to Sr. Executive and his salary was raised to Rs. 4000/- per month, destiny had something else decided for him.
Mr. Ashesh Shah left the company and decided to start his own business in providing service related to the Internet Dial-Up connection, domain name, hosting services since there was a boom in the IT sector in the late 90s. He was engaged in this job for a year (1999-2000). Then his interest & passion rose in Software Development and Web Development sector because there was higher demand.
As they say, when you have finally decided your goal and you are tirelessly walking on your path, you are introduced to the right people at the right time to give you the right push.
Mr. Ashesh Shah then met a person who was looking for a Software for a Canadian firm. This is where he realized it's the right time to give wings to its entrepreneur ship ideas. In the year 2000, he met Mr. Dhaval Shah. Together, they explored the domain, shared the vision and ventured together to start their own business. This duo got a financial partner who invested in their company on a 50-50 partnership basis. The duo worked on technical aspects and completed the projects while their financial partner looked after the finance part. By the end of 2002, their financial partner moved to USA to achieve his career aspirations.
In 2003, Fusion Informatics Limited was established. They accomplished several projects in a short duration. But the year 2004-06 was really a tough one, they had almost no projects. Added to this, Mr. Ashesh Shah got a serious health issue to deal with. The problems were at three levels – physical, mental and financial.
"There is one peculiarity about problems, when one comes, all sorts of problems will come one after the other in solidarity".
But as they say, your strengths are checked and skills are developed during the bad phase of your life. Something similar was happening with the duo. In the midst of nowhere, they got a call for a project! The duo decided to give a last try and if it doesn't work out, they will leave the business. They put their heart and soul for the next 6 months in that project. They not only successfully completed their project but also had their own office within the next 2 years. They achieved success with multiple projects across different markets and industries.
"In our 19 years of journey, there was no single complaint from our employees pertaining to salary on time. First, them and the remaining with us, was what we used to think."
Four things that helped them across different hurdles of personal and professional lives were – innovation, integrity, trust, and allegiance. If an individual or a team has these basic but vital qualities, they can become successful in any discipline and domain.
The other major thing was effective communication. And last but not least is technological advancement. They had an edge over adoption of new technologies and incorporated them into all of their projects. This way they stand out from the rest of competitors & delivered better in the evolving market. Due to their dedicated positive attitude, strong commitment and deep learning they were able to emerge as a successful company in the upcoming years.
Mr. Shah has attained more than 20 years of experience in the Information Technology sector. It has helped him emerge successfully and push business growth. Working as a CEO of Fusion Informatics Limited, it has improved understanding of what is required to make a business successful in this fiercely competitive era.
"Honing my skills with an experience of more than 19 years, I have gained in-depth knowledge about the strategies used in the sales and marketing of software products and IT services. The various marketing strategies I applied helped me emerge as a successful entrepreneur."
Managing the organization from the last two decades, Mr. Ashesh Shah has been instrumental in framing complete business strategy and guided the growth of the company for marketing, operations and sales strategies. Recognizing the growth areas and optimizing the use of tools and technologies has been the main area of focus. Continuously endeavouring to achieve perfection, his organization has been successful in delivering improved services and applications.
"Learning how to interact with customers is something that anyone starting any business must master. It's an amazing opportunity to be able to learn the ropes at an established company and then employ your expertise at your own company". – Marc Benioff
Mr. Ashesh Shah has also involved himself in managing client relations, corporate communications, Brand reputation management, public relations, business operations, finance & business development. He provides strategic directions whether it's marketing or sales thereby adding value to overall business functions. His diverse knowledge and skills has helped him to carry out strategic consulting in digital transformation which helps businesses to make decision as how to tap into the power of emerging technologies such as Enterprise Mobility, IoT, Artificial Intelligence, Blockchain, Cloud and many more.
THE CO-FOUNDER – MR DHAVAL SHAH
Mr. Dhaval Shah is a Solution Architect – he is an excellent problem solver, Dynamic, Energetic & Multi-Skilled Knowledgeable IT Entrepreneur with over 18 years of experience in Design/Develop software products, Mobile applications, Enterprise Solutions and Cloud Solutions.
Mr. Dhaval Shah is the co-founder & CTO of Fusion Informatics Limited and is responsible for Fusion Informatics' overall development, implementation strategy, identifying new technologies to deliver improved services and would like to take this company to Fortune 500.
Over the past 18 years, Dhaval Shah has been deeply involved with networking & security via Fusion Informatics. He is also responsible for guiding the needs:
Providing Architecture/topology suggestion
Providing strategic direction and consulting to clients on Offshore Product Development
Providing Technical direction
VISION
Every start-up, SMBs and Enterprises have different problems. Mr. Ashesh Shah said so because they have gone through tremendous challenges in their 20 years of journey. But he says, "We even face a lot of problems every day, but that's how you grow, isn't it?"
The team decided to become top leading mobile app and web development company and to provide comprehensive suite of IT services that include: strategy consulting, design, development, integration, migrations, upgrades, 24×7 support and maintenance.
Their vision is to empower organizations with digital transformation, irrespective of whether the client has a start-up, SMB or an enterprise.
"By allowing multiple partners to contribute, an open platform can nurture an entire ecosystem of developers and apps. Good products integrate and become great products. Users get a one-stop solution for social needs". – Ryan Holmes
OFFICE CULTURE
Behind a prosperous and productive company, there are several factors like visionary leadership, profound management, tireless efforts by team members, clients, and their challenging projects. The companies thrive only when all these factors are in harmony with each other and everyone is giving their level best.
Apart from the required skill-set, the team must be energetic and must have certain basic values for their own growth as well as the company's growth. Not surprisingly, Fusion Informatics does have a fantastic team with all the necessary values and ethics. There are opportunities for bonding. The environment is fresh which helps the employees to set their priorities and conduct their actions. The team is committed and motivated for long term goals and planning.
"Create the kind of workplace and company culture that will attract great talent. If you hire brilliant people, they will make work feel more like play." – Richard Branson
AWARDS & ACHIEVEMENTS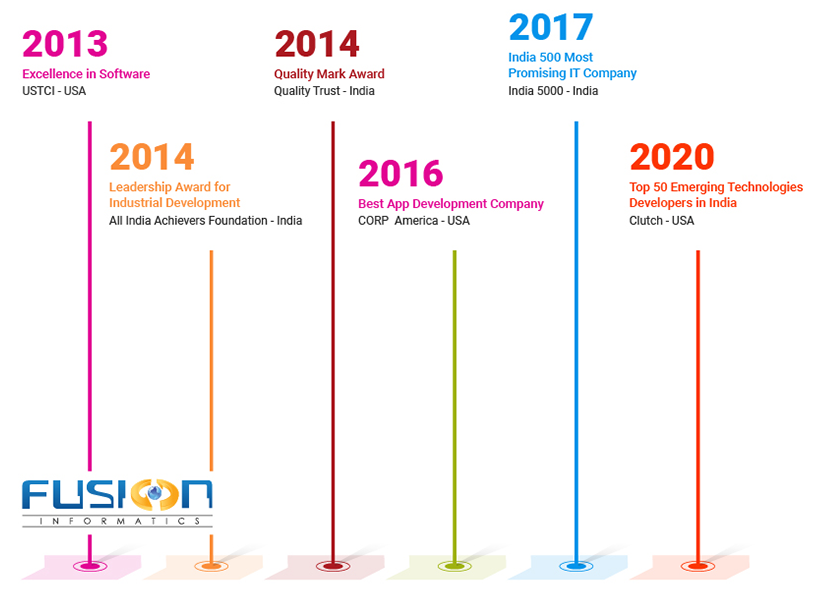 MESSAGE FOR NEW ENTREPRENEURS
Industries especially IT is rapidly changing every six months. Instead of taking a strategic edge over an emerging field, technology or discipline, do in-depth research on the area of your interest or the emerging fields before you take it or implement it.
Technology, functionality, marketing is not a major challenge. You can develop any product in any technology. You can get an agency to promote your product. The crux is to identify needs of market, get the right solution for the right opportunity.
Your time and efforts won't be fruitful until your basics are strong. Make your homework fundamentally strong! Stick to your ethics! Stick to your inner voice! Be louder, be fearless! This way you will become a successful entrepreneur.
"My innate entrepreneurship skills helped me jump start my business at an early age of 24. Multi-talented, proactive and cognizant, entrepreneur – yes, these are the apt words that describe me."
CONTACT