Quahog Health DS is a technology platform designed to improve decisions that help in better patient care and management. The platform provides insights required by care managers or doctors or CXO, which is necessary for making timely accurate decisions for better patient care and management. The platform provides users with insights about each patient and notifies the user for any deviations or irregularities in data patterns, helping users better manage patients.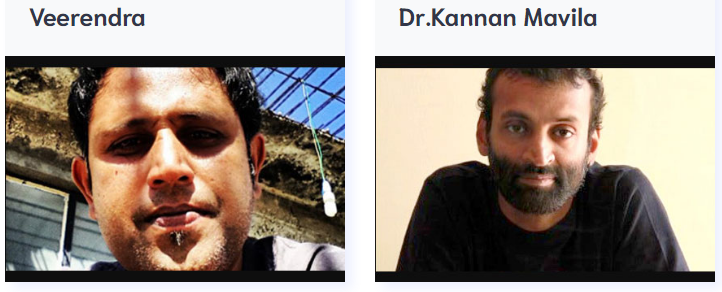 The objective of the Quahog Platform is to create a error-free diagnosis environment using data unification and analytical models. Today, death caused by preventive harm (erred diagnosis) is more than a million lives every year and Quahog's platform aims to solve this problem.

Veerendra
"Equity in Health for all" has meaning with technology as its corner stone. With a medical background combined with a penchant for technology, I along with my co-founder @ Quahoglife offer emerging solutions targeted to the task of "Prevent, Maintain and Repair" of human biology and its physiologic processes. We are here to extend the scale for Human Longevity.

Dr. Kannan Mavila
How did you come up with the idea of Quahog Life Sciences?
We realized that lot of information and insights are not available for the doctor to make better decisions which otherwise can lead to disability or death.
How much time did it take you from conceptualisation of Quahog Life Sciences to actually launching it in the market?
We have taken 3 full years just designing the data model and algorithms, we have not yet launched the product.
What problems Quahog Life Sciences solving?
The problem we are trying to solve is death due to missed diagnosis and lack of doctor's attention. There are several cases of death or disability due to missed diagnosis or due to poor patient doctor ratio. The solution provides patients with mobile app which tracks multiple parameters from various sources to be able to predict and prevent scenarios at an early stage. The patient's health can be monitored by doctors remotely and can recommend strategies to prevent them.
How does Quahog Life Sciences work?
The solution is an AI based prediction platform that connects to multiple data sources for unique health parameters to gather data periodically or in real-time to assess changes in health parameters of an individual. The platform provides the user with an app to record health data either by explicitly entering into it or through collecting data directly from IoT devices or through other digitization techniques.
Who are your biggest competitors and what is your competitive advantage?
Innovaccer, Mede Analytics, Health Catalyst but we Highly accurate patient-centric insights and predictions to prevent diseases and that will be our competitive advantage.
How do you plan to market Quahog Life Sciences?
Our initial focus would be to build connectors for EHR/HIS software, so we can provide insights on existing patient data. Subsequently, we will provide connectors for other patient related data in order to unify and create unified patient records for machine learning algorithms.
What is your larger goal or vision?
Our larger goal is to be able to provide patients or their associated doctors with regular insights so that any health irregularity can be addressed quickly. This will avert all complications arising from missed diagnosis or even misdiagnosis

Quahog Life Sciences Vision
What expansion plans are you looking for the next 2 years, next 5 years and in next 10 or 25 years?
In 2 years, we want to have at least 250 users or 25 hospitals using our decision platform. We want to test our platform in different regions through collaboration and try US, UK and African markets.
As the platform is built to learn continuously from newer patterns, we would like the platform to become a high reliable healthcare decision platform, which can provide insights to the next generation of self-service driven personalized patient care to a larger global population.
How DERBI Foundation as Incubation centre is helping Quahog Life Sciences?
DERBI Foundation has been helpful in providing us with resources and connections that are related to fund-raising and new POCs.
About DERBI Foundation
DERBI is here to Nurture Young Tech Ventures, with its Expert Mentor pool, Investor & Ecosystem connect and State-of-Art Infrastructure.
DERBI Foundation is a Technology Business Incubator supported by Department of Science & Technology, Government of India. DERBI supports startups in the space of IoT, AI in the verticals of Healthcare, Power, Water, Agritech and Industrial Automation.
DERBI incubation program offers seed fund support in addition to mentoring, customer validation, tech expertise access to market, business & ecosystem partners.