We call ourselves travel enablers of the students. We are a community of young graduates from India's premier B-schools who came together to follow their passion for adventure travel.
How did you come up with the idea of Chal Kabira?
One of the friends of Rahul was studying in India's premiere B school reached out to him asking for vendor suggestions who can take a group of students to Everest Base Camp. Rahul asked for 2 days time to find a good, economical service provider and unfortunately could not find any. Why? Because student travellers in India are a supremely small set of population and no one is able to bargain on their behalf. We realized there is a huge gap that we can fulfil. We started Chal Kabira with an aim to bring the culture of "travel as a learning experience" among students in an affordable manner. We do it with a gamut of meticulously planned trips, trails, and activities that will take them to amazing natural getaways.
What problems are Chal Kabira solving?
It is pretty common outside India to see students and even professionals taking long breaks to travel across globe in order to learn and grow and not just a leisurely break. In India, students face difficulties in travelling extensively because of majorly two reasons – budget constraints and cultural notions. We are trying to solve the first problem by developing a model by bargaining on behalf of student community and offering affordable trips. We solve the second problem by innovative ways of association with education institutes, an encourage the idea of travelling.
How does Chal Kabira work?
Our product is basically a geography which can have multiple destination points. Each product is handled by one person who oversees the entire back-end logistics development. He/She is the product manager who develops the product for young population. At the customer facing end, we collaborate with educational institutes for building the culture of adventure travel and also, develop the business.
What is your larger goal or vision?
Develop a culture of "travel as learning experience"

Rahul's vision on CHAL KABIRA
What is your target for Chal Kabira?
Youth between 20-35 yrs of age. Till now, we have taken hundreds of B-School students/ alums to adventure trails like Everest and Annapurna base camp.
What are your geographical target areas?
We are incubated at GUSEC in Ahmedabad; however, we serve clients across India and operations are currently in North East, Bhutan, Manali, Nepal. We are planning to add more products this and next year, including some international ones.
What is the revenue model of Chal Kabira?
Since we offer budget trips, our margins cover only the bare minimum costs. So, we have diversified our clients to Corporate and earning professionals too who can offer better margins to maintain the business operations.
What best Marketing practices/tools that you always rely on the business development, marketing, and branding?
In last 2 years of existence, personal network, word-of-mouth and direct collaborations with educational institutes have been the major BD practices. In order to drive a sustainable business, we are now exploring social media/ digital marketing too.
How do you plan to market Chal Kabira?
Our major focus are students, specially college going. Thus, collaboration with educational institutes shall always remain the prime focus. However, there are limitations to that method. Digital/ social media and creative collabs in travel space is what our current focus is.
What is your competitive advantage?
Personal relationship with Institutes, pocket friendly trips and the purpose to drive the culture of travel, not just try to make revenue.
What skills Do you want in your employees/team at the time of hiring?
Enthusiasm and passion for travel – We are not a paymaster corporate. We work like a community and hence, this purpose requires someone whose driving forces are not money but travel itself.
What expansion plans are you looking for the next 2 years, next 5 years and next 10 years?
We are looking for major expansion plans in the next 2 years, next 5 years:
1. Build a sustainable consumer base – because in order to deliver affordable and yet personalized product/ services, we need a consistent flow of consumers. So, to increase the reach is the goal.
2. Offer more products – Till last year, we had only Nepal as the geography on offering. This year and in coming years, we intend to offer more geographies/ destinations, including some international ones.
And, in next 10 years, we want to be the most reliable and preferred travel partner for youth in the country.

Chal Kabira in next 10 years
Tell us more about your team and uniqueness of Office culture at Chal Kabira.
We pride ourselves in delivering with limited resources (time, money, etc) and even while working remotely. Almost all of our community members are having multiple work commitments and all are spread across India. Trust coupled with sense of responsibility are the factors that make it possible.
Share your Success Story of Chal Kabira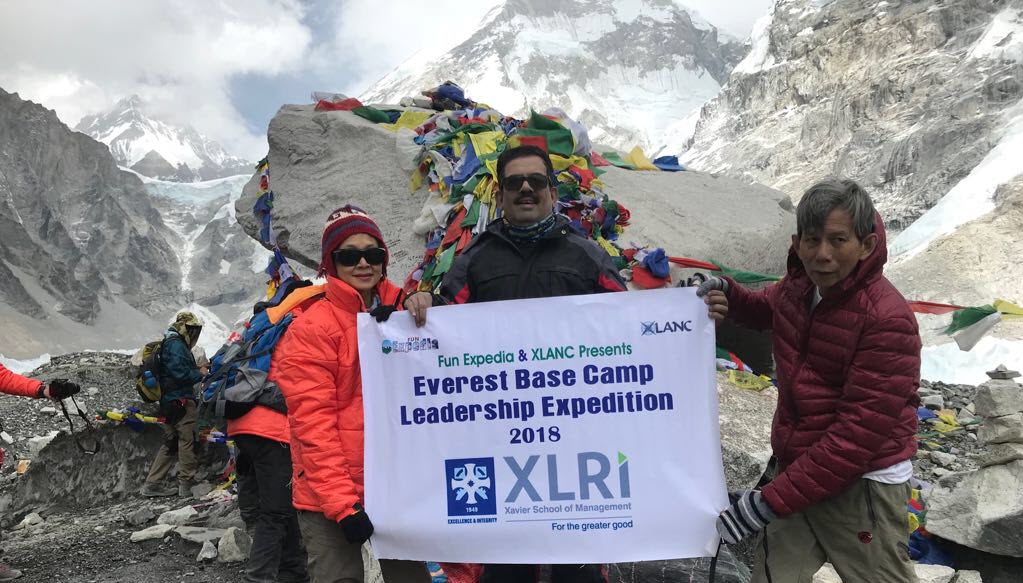 When some eminent clients like Dean of XLRI comes and says that he wishes to travel to a destination only and only with you! The destination did not even meet our target segment's preference but he wanted no one else but Chal Kabira to serve him. Similarly, a Corporate client went with 4-5 friends to Annapurna Base Camp in 2018. And in 2019 they have booked Everest Base Camp for 20+ for entire management staff. The trust that clientele shows – that's our success story!
Can you share another Success Story of Chal Kabira?
From India average, 1000-1200 people go to everest base camp every season and we have 300+ choosing to go with us.
What was the most challenging part of your journey till now? How did you overcome those challenges?
Ensuring best possible delivery with limited resources during the rapid expansion phase. We are still in progress to address it through creative work arrangements and operational stabilization.
How your current profile has transformed you as a person?
To be in a travel space, one needs passion for travel – which I always had. But to sustain the delivery, one needs to know a lot about establishing a sustainable business model. Journey with first day of Chal Kabira, had made me learn so much about running a business and a one with purpose.
If you had the chance to start your career over again, what would you do differently?
I think starting Chal Kabira would still be there. There could be changes in strategic approach in that.
What is that One thing you would like to change in Chal Kabira?
Not change, but improvise. A rigorous approach towards executing growth strategy – auto-piloting operations, funding readiness, technological optimization.
Mr. Rahul Panch added that:
Happy to share with you that this year within a short Span of one and half months more than 150 students from IIMs and other top institutes, their alumnus and corporates have already trekked with CHAL KABIRA, for high altitude treks like Everest and Annapurna Base camp treks. It is also worthwhile to mention that one of our corporate client of Ahmedabad 'ELECTOTHERM LTD' after doing Annapurna Base Camp last year is again trekking with us later this month for Everest Base Camp with its entire management team and senior manager's batch of 17 participants.
Also more than 200 people participated in our newly launched Road trips of Bhutan, North East & Sikkim.