Some phrases will always haunt us like, "money is not grown on trees", "don't break your friendship for money". There is so much self respect in many of us that we shy away from asking. Many banks have to follow norms while giving away loans and do not provide loans to those who aren't listed in their SOP. However experienced ex-bankers have found a way to crack it. The NBFC start up FINNABLE provides loans to first time loan seekers on their personal credit ratings based on their account history.
Here are few interesting tales. Manish and his friends were taking up a six days holiday travel to Thailand. They were all excited to spend the holiday in a group. Manish was short of money. He contacted FINNABLE and he was guided to download an app on his mobile, which he did. He submitted the required documents through the app and to his surprise the loan was credited to his account within few days after the approval. Manish happiness has no bounds and he was flying in memorable thoughts.
Here is another case of a different nature. Seema was to get married and with some health emergency at home savings were stressed. However marriage also had its own importance. Seema had started earning two years back and was in two minds when the marriage proposal came in. One of her friends asked her to approach FINNABLE, whose team guided her to the loan formalities and in days time Seema was all smiles and ready to step into new world.
Finnable is one of the fastest growing financial technology (Fintech) start-up to help employees get hassle free loans in less than 1 minute. Finnable's primary focus is on providing loans to the salaried people. Their NBFC Model is fully online with Risk Analytics and Risk-tech Products. Finnable has a client base of large Banks/NBFCs who facilitate loan disbursal seamlessly. Through technology and innovation and with the support of employers, Finnable strives to make the lives of millions of regular earners less stressful, more productive and increasingly happier. The idea behind this platform is to help the working class to get personal loans on quick time basis. Since India's consumer finance market is growing at a whopping rate of CAGR 18% it will soon be touching USD 1.2 trillion by 2025. The sole concept of Finnable is to target a millennial crowd with the gross income of 1-4.5 Lakhs.
Finnable was founded in August 2015 with its Headquarters in Bangalore. It was flagged of by Nitin Gupta Co-founder and CEO and Viraj Tyagi as Co-founder and Director initially. Amit Arora came on board recently as a founder member recently. Amit has large exposure to international banks like AMEX and STANCHART, in his last role he was the Global head digital capabilities with STANCHART Singapore. Nitin believes that the best of analytics is yet to come in financial services and we have many miles to go before it is a business stream. Lending industries is still largely paper-based and most of the analytics currently is inward focused rather than customer focused. It was started as a crusade to change the way of lending loans is made in the Country.
Functionalities of their platform Finnable (mobile app) are: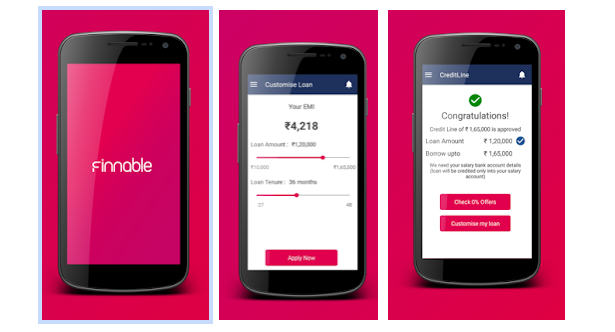 USP
One minute loan
No paper work
Hassle free formalities
Financial institutions, financial procedures, and financial services have drastically evolved and improved in the last few decades. With the evolution of technology, the entire industry has undergone a massive transformation that has changed the way the financial procedures are carried out and the way the financial institutions operate. The collaboration between finance and technology has led to a radical change in several aspects of finances like banking, investment, trading, crypto currency and more. Banking software and mobile NBFCs applications are examples for the growth of our sector.
Finnable has a 30-member team operates in Bangalore, Chennai and Coimbatore at present. It will soon be available in all the six metros and add 10 more Tier I cities in 18 months, for example, Hyderabad, Pune, Lucknow, Chandigarh, Jaipur etc.
About Amit Arora
Amit is a seasoned retail banker with over 21 years of global experience across general management, product, risk and digital. In his last role he was the Global head – Digital capabilities with Standard Chartered Bank, based out of Singapore. Prior to that he has held key positions like COO – Retail Products and Digital, Country Risk Head for Malaysia and Consumer Banking Head for Vietnam.
About Nitin Gupta
Nitin is an alumni of IIMB with over 20 years of experience in analytics for financial services industry. From the era when analytics used to be only a few management reports in excel, to now when analytics is a fundamental and core function for any business with big data and AI, Nitin has been a significant contributor to this journey. Nitin conceived and built innovative products which helped banks and NBFC's to increase their customer cross holding significantly and drive down the credit risk.