Vision is something that you have when something deeply moves you
Working towards your goal
Your Calling
A vision to empower
Vision to change
A vision to be the change
Vision To create a difference
Through Dedication, Devotion, and Determination…
Sanjan is a very small town in the district of Valsad. The company Founder's Mr. Maganlal S Dakle, during the childhood, had to travel to different towns far away for his education.
When you have faced adversities and when you know what it feels to take pains and go somewhere to get the basic necessity of education, having a vision to start a school in the post-independence era was brought to light by Late Sardarmal G Dakle who started a Gujarati Medium High school for the children of the town in 1965. Till the twenty-first century where English is known as the Global language, the children of the town were devoid of English education in Sanjan as there was no school particularly providing the same.
There were a few schools a little away from Sanjan but then the fee structure was exorbitant for the localities to afford it. That was the time like father like son wherein Shri Sardarmal ji had started a Gujarati Medium High School, Mr.Maganlalji thought of taking a step ahead. But he thought of providing the best of educational facilities with a minimum expenditure for the parents and decided to start an English medium pre-school in Sanjan in the year 2013.
As it is correctly said, "The quality of a father can be seen in the goals, dreams, and aspirations he sets not only for himself but for his family."
The same happened like father like son so goes the saying but here in we have a beautiful twist in the saying," Like Father Like Daughter" when the daughter in law shares the same passion and aspirations of father in law, the "In Laws" tag holds no meaning. In 2015, Mrs. Priya Anand Dakle joined him and became his pillar of strength, compassion to take the school to higher limits.
Priya Anand say that even if you wish to serve the society, the people should be understanding enough to receive. "English Medium is equal to Expenses"; " It's not worth and just wasting of time for children"; "What will they do after learning English when all they have to do is slog like us whole life"; " We won't be able to teach our children if they study in English", these were the the thought processes of parents in Sanjan area. Breaking these stereotype thoughts and making them aware was a hard nut to crack.
Too many consistent efforts and counselling and assurances to parents that this is the future of education, this is pocket friendly and we will make sure that their children will create a mark of their own and many such awareness campaigns were done. Because it was very difficult for her to let parents understand that the institution is serving them the best services at the lowest cost. She had to do door-to-door campaigns, auto-rickshaw announcements, newspaper pamphlets, and much more to achieve the trust of the parents of the vicinity.
The journey of many miles starts with a few steps and that is how in the year 2015 the institution had only eight admissions when Mrs.Priya joined, which today in 2020 is 150 plus. But in 2019 Mrs. Priya registered the school Smt. Madibai Sardarmal Dakle School, Sanjan in the name of the late mother of our Founder Mr.Maganlal Dakle who was the lady behind the vision of education.
Because the school charges Rs.6000/- annually with no extra or hidden cost & has had annual sports & cultural events each year with full galore. Because when our country was hit with Pandemic COVID-19 Mrs.Priya Anand Dakle decided to waive off the annual fee for all the children in the school & also returned the fees received for the month of March 2020. But at the same time, all the teaching & non-teaching staff is receiving their 100% salaries on the 5th of each month without fail.
Details of the Co-Founders & Partners
Mr.Maganlal Sardarmal Dakle:-M.E Chemical from the USA is the founder & partner of Dakle Industrial Plastics, which is now run by his Son Mr.Anand & his wife, Mrs.Priya.
How did you come up with the idea for your business?
The preschool was started in 2013 by Mrs.Priya's Father in law Mr.Maganlal Sardarmal Dakle. But due to his age and the town of Sanjan being 30 km from Vapi(our present residence), it was getting difficult for him to run the new school as the parents of the town was not that convinced with the thought of English medium education at affordable cost. And hence he decided to shut down the school in 2015. That day he decided and told Mr. Anand and Mrs. Priya. It was hitting hard to both of them that when their father can dedicate his life to Gujarati medium school founded by his late father, why shouldn't his dream not be fulfilled? It's their responsibility as his children to fulfil his dream of giving something good to society. 
Mrs. Priya thought throughout the night and came to the conclusion that since her childhood. But she had being taught that whenever we blessed abundantly, we should try to give it back to society. The next day morning, she requested her father to please not shut down the school & let her go ahead with the project. He happily agreed for the same, and she was ready with her strategy.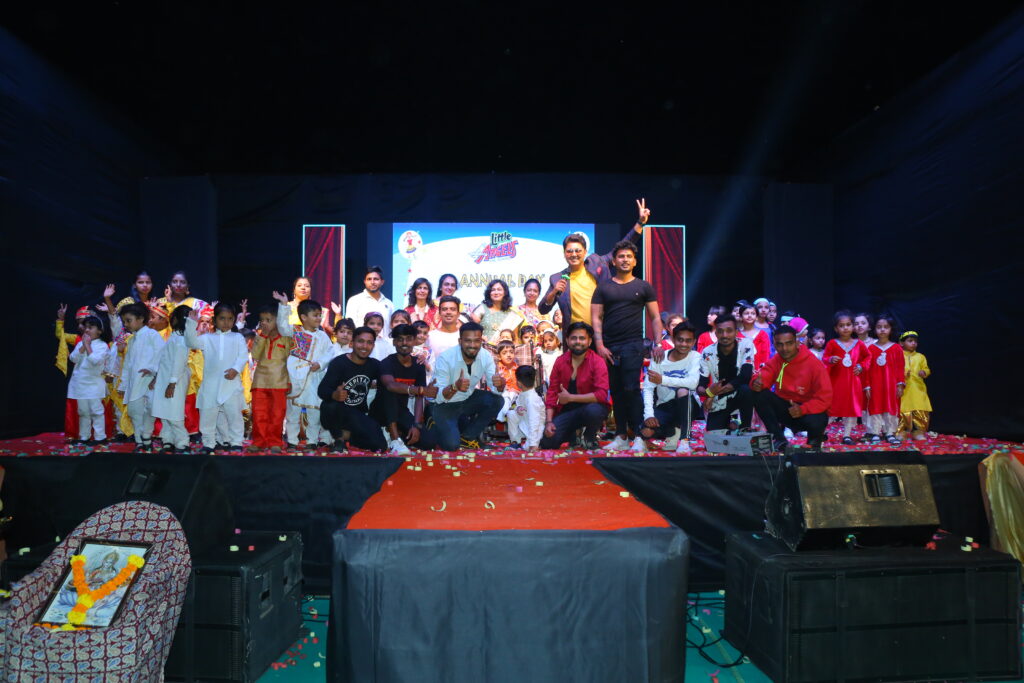 We started with talking about visions and this lady had the vision. But which eventually became her mission to create a reality which will be remembered by the people of Sanjan.
The legacy of Dakle's hitched a mark higher with the mission of serving the people of Sanjan with best in class English educational facilities for the children of sanjan.
They correctly say
"The heights by which great men

Reached and kept

Were not attained by a sudden flight.

But they while their companions slept,

Were toiling upwards in the night."
That one night of being awake and taking the the dream of Shree. Maganlalji Dakle ahead by Mrs Priya Anand Dakle is one such finest example.
From there on the the journey started. Because many brain storming sessions, hard work, consistent efforts, studying the mindset of population of Sanjan. But a strong willed dedication is the talk of the district now.
What products and services are you offering?
We provide the best quality education at highly affordable fees. We conduct sports & cultural events timely. Because each week multiple activities are conducted in every class where a fair chance of participation is provided to each child. But we also take care & give the best education to specially-abled children without any discrimination. But we treat our children with equality. We make sure that our special children also participate in Annual Sports & Cultural events and strongly believe in practical knowledge. And hence it is an integral part of our education system.
What is your larger goal or vision? What do you want to achieve from this business?
We want our school to grow upto Higher Secondary with the same motive of delivering Best quality education at affordable cost and want to give the Best Doctors, Engineers, Entrepreneurs, and moreover the Best Human Beings to the society & nation.
What was the most challenging part of your journey till now? How did you overcome those challenges?
The Start was very challenging as to create awareness for low-cost education in the minds of people. But gain their trust by delivering my Best with Perfection. For that, we even saw multiple failures like zero admissions after doing door-to-door publicity. Later on, had campaigned for a free Diwali camp where we managed all the extracurricular activities. But which are not available even till today in Sanjan where we got only four kids to register for the same. Because we conducted multiple awareness campaigns resulting in not a single admission in my institution. So, we slowly and gradually acknowledged that we have to deliver the Best and wait for the results. After two years of hard work and patience started delivering success, name, fame & moreover the trust of parents towards the dedication for the betterment of society.
Contact Details
| | |
| --- | --- |
| Business Name | Smt.Madibai Sardarmal Dakle School,Sanjan |
| Headquarter | Sanjan,Dist-Valsad,Gujarat |
| Founders | Mr.Maganlal Sardarmal Dakle & Mrs.Priya Anand Dakle |
| Sector/Industry | Education |
| Founded (month/year) | First venture on June 2013 & Second on June 2019 |
| Parent Organization | Shri.S.G.Dakle High School,Sanjan |
| Phone | 9998849796 |
| Email | daklepriya@gmail.com |
Also Read : Success story of  Hetal Saraiya