VyapaarJagat celebrates International women's day and has invited 16 women to share their inspiring journey via going live on Vyapaar Jagat TV
Dr. Tanisha keswani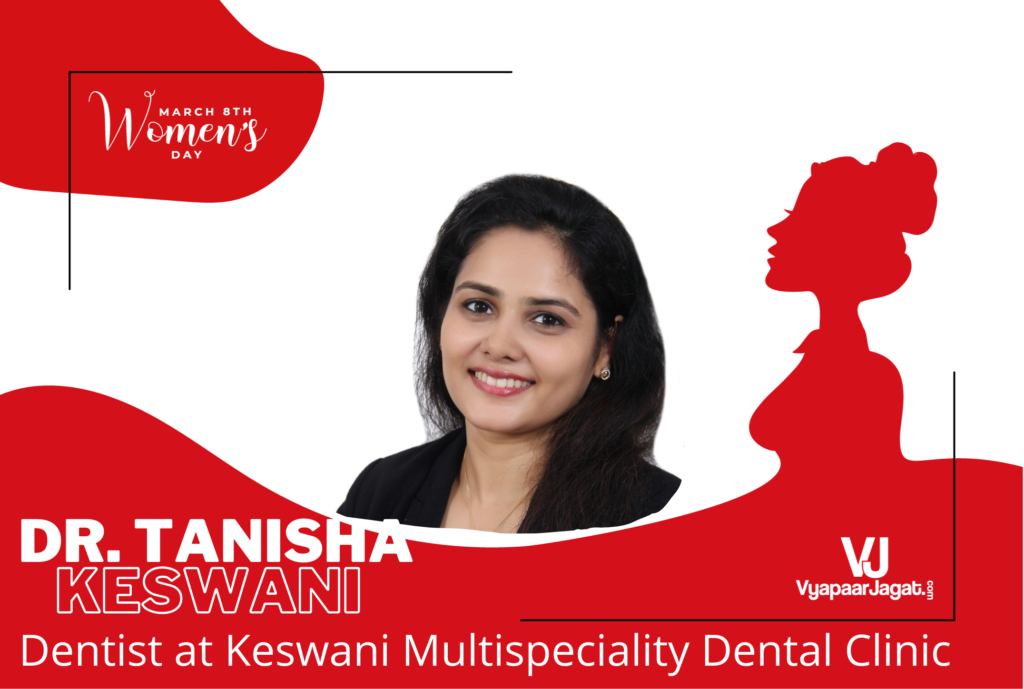 Dr. Tanisha Keswani is a dentist by profession and has been practicing the same for over 10 years. After working as a consultant across places, Keswani Multispeciality Dental clinic was established 7 years back. A full time practitioner with a lot of accolades in terms of Publications and Awards, She is an active member of Indian Dental Association and one of the few doctors certified from Korea for advanced Braces system. Dr. Keswani likes conducting dental awareness workshops. With a Vision to be the Leading Dental Centre across the globe, along with a Mission to expand her practice this is Dr. Keswani s views on Woman s Day.
Aditi Gupta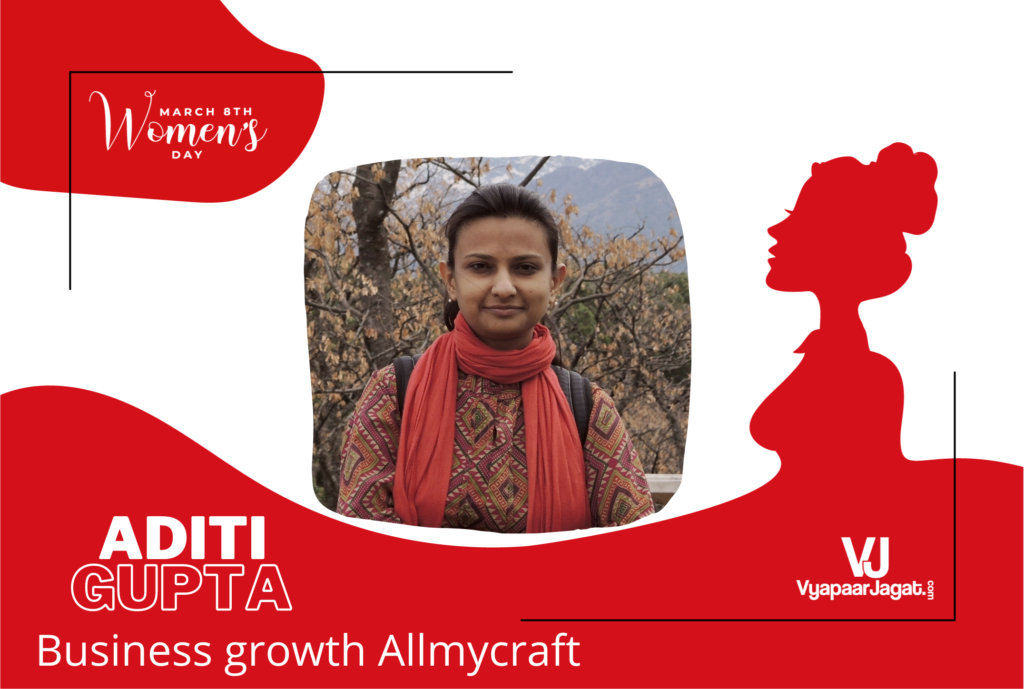 Virgo to the core and true to her name! Aditi is all dedicated to serve. Deep sense of humanity is what connects her to the nature and the society. After becoming Chartered Accountant and serving banking industry for over a decade, she decided to connect to her roots (strength) and work with passionate artisans. Aditi is an ardent observer, at times over analytical (when professional knack wakes up) believes that without Emotional Intelligence, Artificial Intelligence is indeed incomplete.
Read full story of Aditi Gupta:
Kavita Modi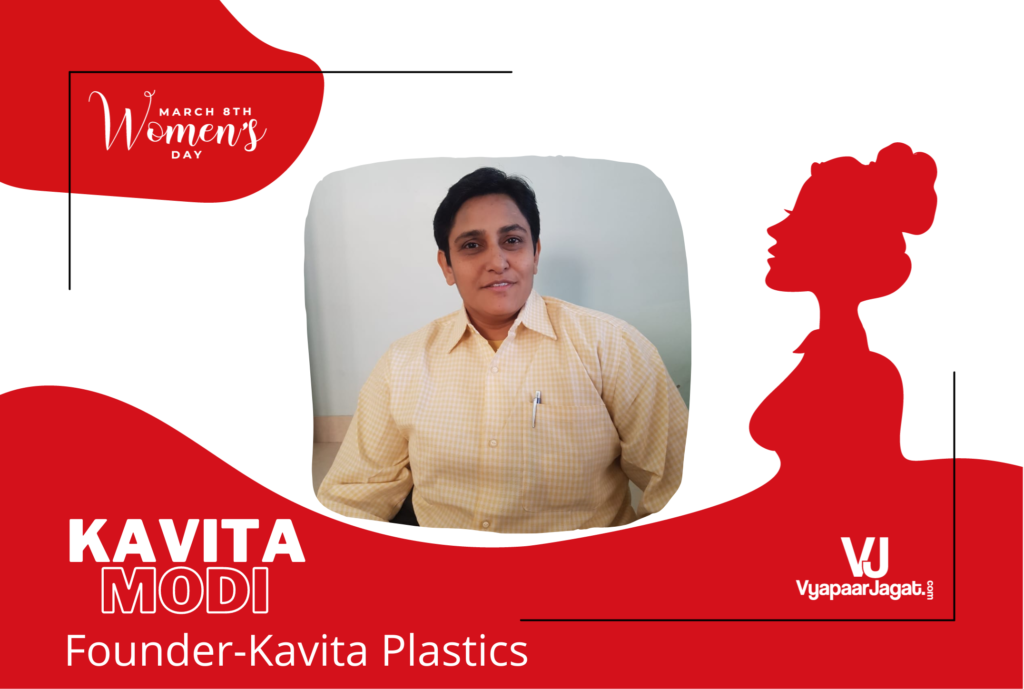 I am Kavita Modi Owner of Kavita Plastics & Shree Kavita Corporation.
Our company is working since 1982 in market. Our company are manufacturing plastic textile machinery parts.
I am 42 year old. I am both lags divyag. And I join my mother company since 1994 Kavita Plastics . But that time we made plastic small goods like box & household items. after we convert plastic textile machinery parts. Because I am Workings 10 to 11 hour in as well as in production /sell/ purchase in my both company.
I supplying my goods all over India and other countries like Bangladesh, Nepal, Barma. My Regd. The brand name "RAVI 555" & Other "ANCO SUPER". Because I am a committee member of the GCCI women's wing and one of the members of GSPMA. Last month ago I got an award from VYAPAR JAGAT CONVENTION & AWARDS-2020. i.e. MSME Recognition for Making Aatma Nirbhar Bharat Businesses of the year Manufacturing (MSME)-"Machinery & Parts Manufacturer of the year".
Krina Panchal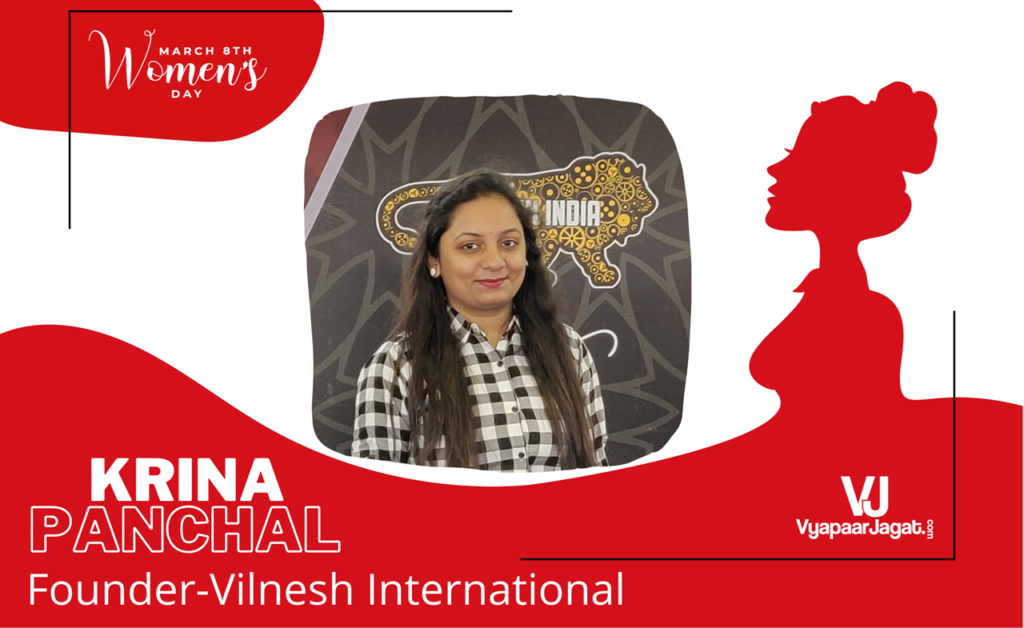 Miss Krina Panchal is founder of Vilnesh international, and she has completed B.com, Diploma in Import & Export Management, PGDM Marketing, and Rifie Shooter, supported by management of company and marketing systems and the healthy relationships company enjoys in the market.
Vilnesh is one of the leading manufacturers, suppliers & exporters. Vignesh International is a term of experienced technocrats in the field of food processing & powder processing manufacturing industries based in Ahmedabad (Gujarat), India. Because providing quick and professional services. But their products are Vibro Sifter/Gyro Sifter, Ribbon Blender/Masala Mixer, and Spices Pulverizer.
The product and equipment manufactured and produced under the guidance of Mr. Dineshbhai Panchal are time tested and has earned repute. Because of this legacy and versatality of her father and with the dream of excelling in this field. But miss Krina Panchal has started this venture with the sole purpose of adding innovation & improving quality standards thereby adding more feathers.
The company enjoys a good rapo with its counterparts accross borders & because of this good will & encouragement from well wishers abroad, we strive to improve to fullfill their expectations. So, with the motto of "Excelling through competence" let us enter into the world of "Vilnesh International"
Yuti Dholakia Oza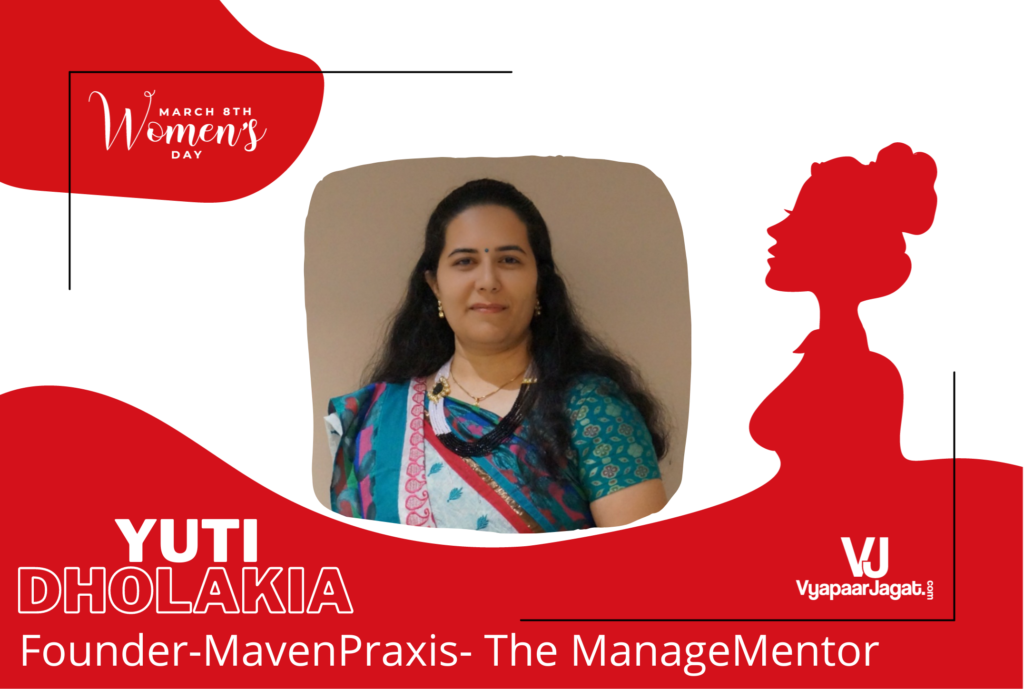 Experienced Self Employed with a demonstrated history of working in Strategic Management, Banking & Finance industry.
Skilled in Strategic Planning, Startup Management, Project Finance, Management Information Systems (MIS), Taxation, and Business Research & Analysis. Because strong entrepreneurship professional with a PGDBM- Finance focused in Finance and Financial Management Services from Indira Gandhi National Open University.
Aparajita Prasad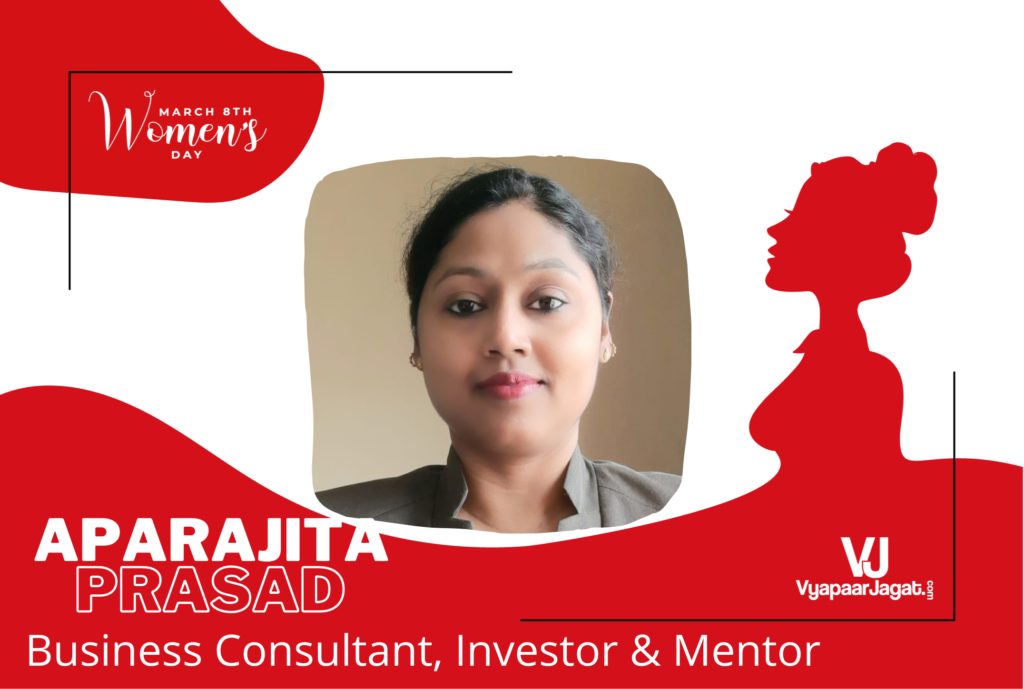 Aparajita Prasad is an IIM Ahmedabad alumna. But she is a renowned Corporate Leader and Subject Matter Expert with over 15 years of experience in Business Research, Strategy Consulting and Startup Advisory across the globe. Because she has worked across many companies including Accenture, TCS, Evalueserve, Heidrick and Struggles etc. She later joined few Start-ups and contributed to their success. Because she has led huge teams and headed business units. Because her experience spans across Strategy, Business Research, Analytics, and Consulting.
Currently, she is Founder and Director of MetaConnect Consulting. Because she is an investor and mentor to start-ups and on advisory board of many incubators and accelerators. She also takes many leadership training sessions and is a well-known speaker and panelist at major events.
Acharya Priyanka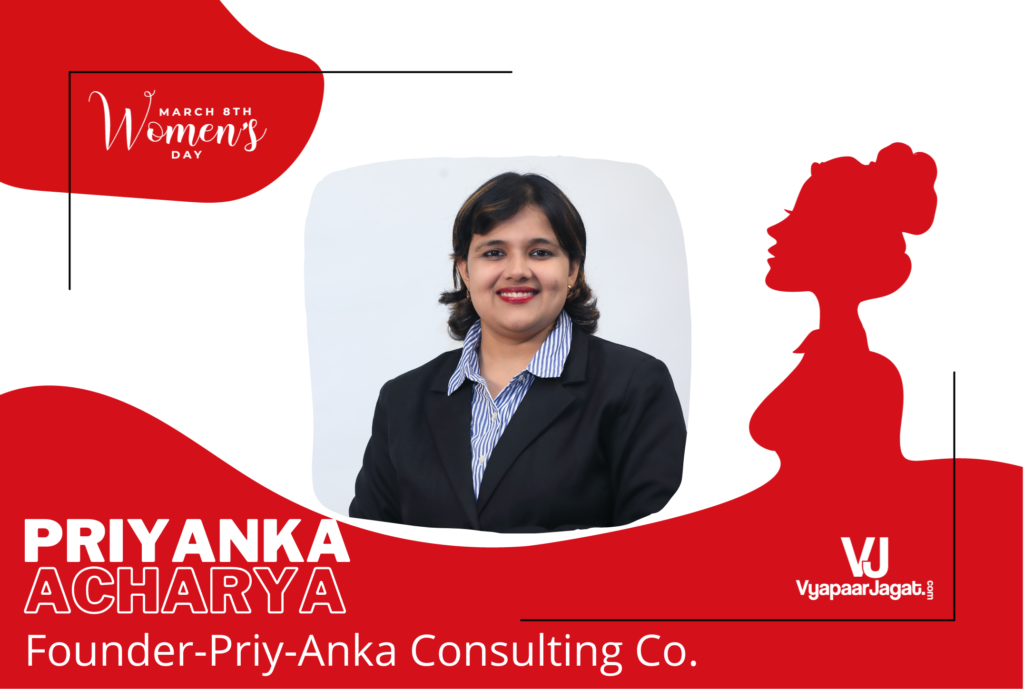 Priyanka is a Learning and Development professional with past experience of 13 years. And after romancing with multiple domain experiences, I am now married to L&D. Because of my first love! Learning isn't like instant noodles; it's like a wine which gets tastier as time passes by…!
With a strong belief in this thought, I am a Proprietor of 'Priy-Anka Consulting Co'. And wherein I provide PERSONALISED consulting for business owners & smaller teams. My name means Favorite (Priy) Episode (Anka) and hence, I am on a mission to be the 'FAVORITE EPISODE IN ANY PROFESSIONAL STORY'!
Renuka Desai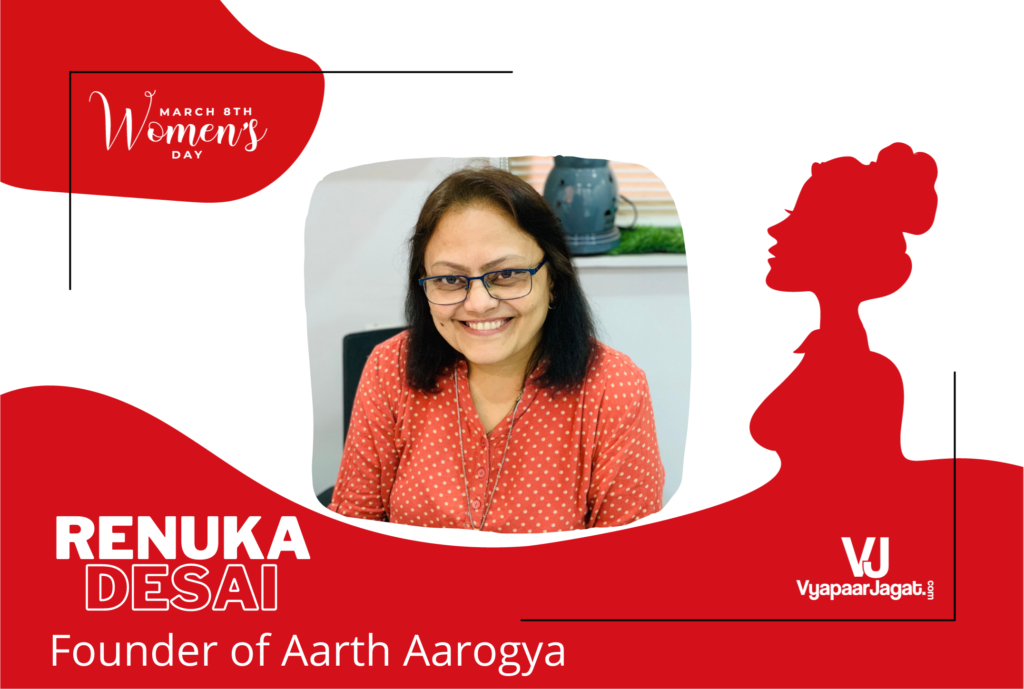 Dr. Renuka Desai, a naturopath is specialised in naturopathy and yogic science. But her vision is to make everyone free from any ailment caused by accumulation of toxins in our daily lives. So she believes in building a healthy community and a healthier future generation.
Because she consults her patients personally and is on a mission to make everyone aware about their health and how they can stay fit and live happily with a positive approach of life.