In this success post, we are going to share the story of Uday Kotak, a well-known person to the world as an MD and Vice-Chairman of Kotak Mahindra Bank. He is best known as a self-made Indian businessman.
As of now, Kotak Mahindra Bank is regarded as the third-best private sector bank in India.
Uday Kotak Early life & Education
Uday Kotak was born on the 15th of March 1959 to Ramesh Kotak and his wife in an upper-middle-class Gujarati Lohana joint family in Mumbai, which was into the cotton trading business. His father had returned to India from Karachi after Partition.
Uday was raised in a joint family household with 60 persons under one roof in a large house in Babulnath. His joint family was originally into cotton and some other agricultural commodities trading business.
Kotak completed his schooling in Hindi Vidya Bhavan. Uday completed his college and received his B.com degree from Sydenham College of Commerce and Economics.
He obtained his post-graduation degree from the Jamnalal Bajaj Institute of Management Studies.
Uday Kotak Career
Over the next few years, Kotak diversified his financial consultancy business into various areas of financial services, establishing a prominent presence in investment banking, mutual funds, stockbroking, bills discounting, car finance, and life insurance.
Uday Kotak: eminent as a self-made billionaire banker.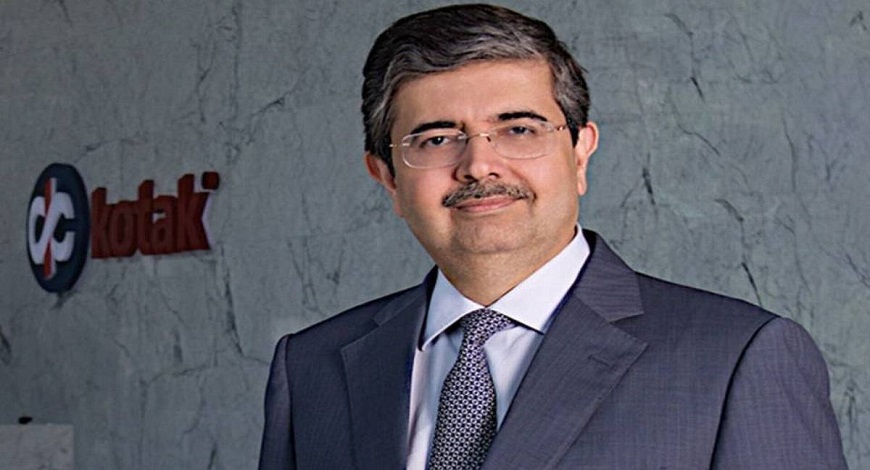 Uday Kotak strong belief that trusts is the key for any financial services; later, he collaborated with the Mahindra Group and brought int the new name 'Kotak Mahindra.'
On 22nd March 2013, Kotak Mahindra Finance Ltd received a banking license from the Reserve Bank of India. In India's corporate history, this is the first non-banking finance company in India who received a banking license and transform into a bank from an NBFC.
Uday ended the partnership with the Goldman Sachs by acquiring its 25% stake in two subsidiaries for $72 million in 2006.
Kotak collected INR 30 lacs to start an NBFC in 1980 for bill discounting. His investment in Hutchison Essar of INR 2 crore investments in 1998 fetches him INR 1019 crores in 2006.
Kotak Mahindra Bank – a story of evolution
Kotak Mahindra Bank has evolved to offer several financial assistance such as commercial banking, asset reconstruction, investment banking, mutual funds, insurance, and more.
In 2014m, Kotak converted a bill discounting business into a financial services conglomerate and become the 2nd largest scheduled commercial bank in India by market capitalization with more than 1270 branches.
In 2015, Kotak Mahindra Bank had partnered with the telco-giant Airtel and ventured into general insurance to start a small payments bank.
Uday Kotak Net worth
Uday Kotak is an Indian banker who has a net worth of $20 billion.
Also Read: Cyrus Poonawalla Biography: Success Story of Poonawalla Group CEO