Awake craniotomy is a surgical procedure that makes it possible to perform a tumor removal procedure in the brain while the patient is awake and responsive. It is a complex surgery that requires precision and accuracy at the highest level in the operating medical team.
Neurosurgeon in India, today can equally perform an awake craniotomy and it's commonly carried out in recent times. Hence, we can state that India provides excellent medical treatment, and its infrastructure is on par with that across the globe, especially the developed western nations.
Mr. Ravindra Chopade, 40 YO patient, regained his normal health after removing the frontal tumor in the speech area through an awake craniotomy surgery. Mr. Chopade consulted Dr. Gurneet Singh Sawhney, a leading neurosurgeon in Mumbai and a senior consultant of Neurosurgery at Fortis Hospital, Mulund. Post diagnosis and MRI Brain scan, it was revealed that there was a relatively big frontal tumor in the speech area of his brain.
For an in-depth evaluation, Mr. Chopade had to undergo a functional MRI, which showed a deeply rooted tumor in one of the most critical and high-risk locations of the brain, viz. the speech area. It was essential to remove the tumor, but at the same time, the risk of impairing the patient's speech was equally high.
However, Mr. Chopade had complete trust and confidence in Dr. Gurneet Singh Sawhney and consented to undergo an awake craniotomy. Dr. Gurneet Singh Sawhney proceeds to state, 'Removal of the frontal tumor was vital, and it was only possible through an awake craniotomy. We successfully identified the speech area of Mr. Chopade's brain through cortical mapping and then proceeded to remove the tumor successfully.'
Dr. Gurneet Singh Sawhney further explains, 'Neurosurgeons can test the functionality of critical areas in the brain through an awake craniotomy as against the conventional surgery approach. Also, awake craniotomy ensures there is no damage to the eloquent areas of the brain and the best possible removal of the tumor and its existence in the affected area.'
Before proceeding with the surgery, Mr. Chopade was briefed in detail about the awake craniotomy procedure, and he assured full cooperation to Dr. Gurneet and his medical team.
During the awake craniotomy operation, Dr. Guneet Singh Sawhney interacted with Mr. Ravindra and asked him to say some words, perform a number count and even identify certain images shown to him on the screen.
When Mr. Ravindra stopped responding to stimulation, the operating team realized that they had reached the speech area, an eloquent area of the brain, and left it untouched. The stimulation process plays a crucial role during awake craniotomy surgery.
Further, Dr. Gurneet Singh Sawhney and his team were successful in removing the tumor entirely from the brain without damaging any of the eloquent areas of the brain. Both the parties, Dr. Gurneet Singh Sawhney, his operating team, and Mr. Ravindra Chopade, were happy at the successful outcome of this critical surgery.
Mr. Chopade got discharged within three days of his surgery with complete recovery and good health. He is more than willing to share in surgery experience with his family, friends, and whomsoever he meets.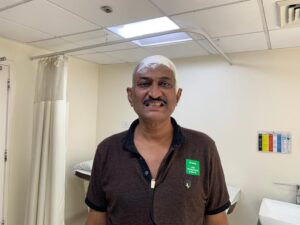 About Dr. Gurmeet Singh Sawhney
Dr. Gurneet Singh Sawhney is an expert brain and spine surgeon in Mumbai. I associate him with Fortis Hospital, Mulund, and Fortis Hiranandani Vashi as a senior consultant in neurosurgery. He is an expert in performing brain tumor surgery, epilepsy surgery, vascular neurosurgery, pediatric neurosurgery, spine surgery, and epilepsy surgery.
He has acquired varied expertise in functional neurosurgeries such as Spinal cord stimulation, Deep Brain Stimulation Surgery (DBS), Parkinson's Treatment, and others that have to be performed as awake craniotomy procedures.
Patients and family members can consult him –
Fortis Hospital, Mulund
Fortis Hiranandani Vashi
Savla Diagnostic Center and Polyclinic, Chembur
For appointments – +91 9902579412