Do you remember doing something for leisure, for fun without much aim but, you received unexpected boon or bounty in return? Well, it's called serendipity and if it hasn't occurred with you yet, don't worry, something sort of that will happen with you too. For now, we are presenting a story of serendipity – about Garnett to you. Keep reading!
GARNETT – A STORE WHICH WAS NEVER INTENDED
Garnett is a premium "Wedding Wear Design" store located in Ahmedabad. Michelle Patel, Anar Amin and their three other friends did a Navratri exhibition of Chaniya Choli for leisure. But they received overwhelming response which gave birth to the idea of starting a design store and taking their "leisure" thing ahead. "We never knew that one exhibition would change our life and give motto to our life. It was that time, when we felt passion for our work", says Anar.
THE FAMILY AND FRIENDS BOOSTER
The primary supporters and strength are our family members and close friends. This is true even for Michelle and Anar. They both were always keen on designing clothes for family, friends and themselves during several occasions. They always received lauds which inspired do something unique and creative every time. Also, Navratri exhibition was a great success. These were boosters which gave them confidence to move in fashion industry.
GOOGLE OR GARNETT?
How many of you know that Google was started in a garage? If no, then start reading diverse content folks :D; if yes, even our Garnett was started in similar fashion people, although not in a garage but in a basement! Yes, Garnett was started in basement of Anar's house in 2014 with 2 people.
Sooner, Michelle and Anar rented a small place and started a boutique. After 1-1.5 years of onerous efforts, in 2016 they launched a three floored boutique!!!
"This journey was indeed very hard and taught us with many things"

Anar
INTRODUCTION TO GARNETT
Michelle Patel describes it like – "Garnett attempts to weave fascinating & unique designs inspired by our strongest foundations of creativity and craftsmanship. Ensuring you the latest, fashionable, and in-trend ensembles that you wear it with superior pride and absolutely flaunting your élan vibrantly. Whether it is designer wear, bridal wear, groom' wear or customized ready to wear dresses, our eccentricity lies in the incarnation of heritage, Indian traditions, and rich colours."
"This affair hasn't just covered India but even the USA, Australia, London and it's still counting. We have ideated and executed shimmery indulgences for NRI brides marking their penchant taste and comfort", adds Michelle.
GARNETT – A ONE STOP DESTINATION FOR EVERYTHING
"We master in customising outfit according to customers budget. We have ready pieces available at our store and we do customisations also. And we have causal to semi heavy to heavy bridal all available at our store. And we do customise grooms wear also. So you can find all solution under one roof. A one stop destination for everything", says Michelle.
WHY GARNETT NEEDS APPRECIATION?
The most challenging part of Garnett is that both the founders are not from fashion field. Michelle is B.Sc graduate and Anar is B.Com graduate. Both of them have not studied fashion designing. "So initially, we faced a lot of practical issues. But, eventually with time we mastered our work", says Anar.
Garnett was started with investment of Rupees 5 lakh and with two workers. Currently they work with a team of 35 employees. The astonishing fact of Garnett is they have everything in the store, they don't outsource clothes. The customised clothes are also manufactured in the store. "We also customise kids wear. So we can design matching family outfits too", says Anar.
TARGETS
"Garnett mainly focuses on bridal and side bridal outfits. But we manufacture for all age group outfits. We are based in Ahmedabad. But we have been doing exhibition all over world. We have done exhibition in Baroda, Surat, Rajkot, Mumbai, Pune, Hyderabad, New Jersey etc. So we target globally", says Anar.
QUESTIONS, ANSWERS AND COFFEE
So, we threw several questions one after the other on Michelle and Anar and we got some interesting replies. Here are those,
Q1. Larger Goal / Vision
A. Every bride should know name of Garnett. Even if they buy our products or not but every bride should atleast visit Garnett.
Q2. Marketing tools
A. Social media marketing using Facebook and Instagram.
Q3. First sale
A. Just after starting up, we had our exhibition at Karnavati club. So the sale was quick.
Q4. Customer acquisition strategies
A. We plan to market our product through social media and word to word publicity. Our pricing is our main benefit which attracts customers the most. The amount of work and quality we provide in our price range won't be found anywhere else.
Q5. See yourself next in 10 – 25 years
A. Amongst India's top designers.
Q6. Team and uniqueness of office culture
A. We are very friendly and open with our employees. They feel like home when they are here. Every small or big festival, we give them something or other.
Q7. Boldest decision you made
A. In just this short time span, we kept faith in ourselves and built this three floored designer store. That was our boldest decision!
Q8. Obstacle working on
A. Inflation in overall market is biggest setback.
Q9. Award & Recognition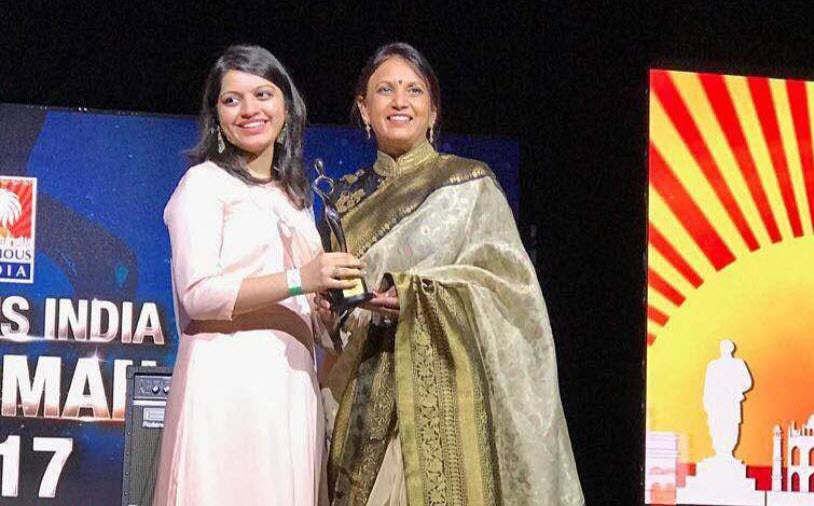 A. Yes. We received Superwoman Achievement award at a fashion show in New Jersey USA!
Q10. Share your success story
A. Not being from this field still doing this well and having a good name in society. People know us by Garnett and not by our own names. That itself is a biggest success!
Q11. Who invested in your Start-up?
A. We used money that we had in our savings and then some amount was invested by both of our fathers.
Q12. Balance between family and social life
A. It is very difficult to manage both – home and work together, especially when we both are married. Living in Indian culture and joint family, it was difficult to manage but, with time we mastered in that too. Our families are also very proud of us.
Q13. Spend time outside work
A. (with a big laugh…) we hardly get free time…but whenever time permits, we spend time with our friends and family.
Q14. Expert in one or good at many
A. Expert in all things.
Q15. Hardworking or smart person
A. Hardworking person! Just because we have given birth to this brand, from start to end we have done everything on our own so, till today we are used to doing everything. Even though we have so much staff now, still we have habit of doing everything on our own.
Q16. Something you are learning right now
A. Each day is a lesson. We keep exploring, experimenting and learning with each growing day.
Q17. Anything you like to say…
A. We have styled Gujarati Film lead actress Esha Kansara several times and we aim to style other leading actor/actresses as well.
CLOSING REMARKS
Well, on behalf of Vyapaarjagat I would like to thank Michelle and Anar for sharing such an inspiring story with us. Making a career in a field which you are passionate about but don't have any knowledge; have tremendous zeal but no one to guide properly; have limited resources but you both not permitting it to hamper your confidence level; moving from basement to having your own three storied store; handling family and business and mastering them both, you are truly an epitome of success for modern generation. People, entrepreneurs and especially girls, Michelle and Anar has shown us how it is done! Now, it's yours and our turn! And yes Garnett, the entire country is struggling inflation and recession! Don't worry, things will change 😀
Contact Garnett