In a glittering function "Times men of the year 2019 Ahmedabad" held in Hotel Hyatt on 25th July 2019, Thursday evening, organized by OPTIMAL Media Solutions i.e., A division of Times Internet Limited – A Times Group Company which was  Mr. Ajit Ramanlal Shah has received his citation from Bollywood actress Chitrangada Singh for his contribution towards the society in the field of "Excellence in social work".
Ajit Shah is known as an ad-man of the Gujarat who founded Ahmedabad's leading accredited ad agency, Ajit Ads, in the 80s and consequently also co-founded Ahmedabad's top OoH and BTL firm, Het Graphics. Ajitbhai Shah has gathered more than 3 decade of rich experience in the field of advertisements. He believes in continuous relationship and constant growth of the clients. He is highly skilled in the art of negotiations, public relations, oversight of complex campaigns, business management and problem solving, he effectively leads the passionate team of Ajit Ads and his other ventures. There are less people who knows about his exemplary social work in the national and state's circuit.
Ajit Ramanlal Shah, picked up the craft of doing social work at the age of 19 years when he was teen during the dark days of emergency. His father Late Ramanlal Shah with many other active members of Rashtriya Swayam Sevak Sangh had to go underground during the 19-long months of emergency. There were numerous families like his own, which had to suffer the ordeal. It was a challenge to the families to sustain through the long absence of their family heads. Ajit Shah then dared to challenge the might of the state and reached out to the suffering families' needs. He collected supplies from willing contributors and door delivered them to numerous families quite sneakily from the preying eyes of police which had kept a close watch on such families.
Since then he never looked back and reached out to suffering humanity. Today he is known more for his social works than his own core profession of Advertising.
Ajit Bhai as he is fondly called, is associated with many social service organizations like Bharat Vikas Parishad [BVP] and is involved in varied range of philanthropic work. As its National Vice President, he oversees its operation of over 1400 branches in the country. He travels extensively on weekends for BVP's programs across the country.
Bharat Vikas Parishad i.e., BVP runs Help centers which provides:
Artificial limbs and rehabilitation for handicaps
Medical equipment support center for pre or post hospitalization at home
Free food supplies to the needy patients and their attendants
ICU on wheels services for critically ill patients
Adoption of villages to make them self-sufficient
Physiotherapy centers
Homeopathy clinics
Generic Medicine stores
Eye & Body donation
Free Medical Equipment' supplies for Tribals
Besides BVP, Ajit Bhai Shah is an active member of the Gujarat Prant's RSS where he currently is organizing Chitra Bharati Film Festival 2020 which would actively promote thematic short films based on Indian values and culture, Social Harmony, Indian Folk Arts, National Security, Environment and Ecology, Women, Bravery, Nationalism, Education for nation building and the likes.
Ajit Bhai is also the Chairman of the Panchvati Branch of Kalupur commercial Co-operative Bank Limited, which undertakes a several CSR activities round the year. Also, celebrating its Golden Jubilee Year in 2019-20, Kalupur Bank has planned a number of social service activities which Ajit Bhai Shah is supervising.
The list of his social service sphere is long. Ajit Bhai is also positioned as:
Vice President of Hindu Spiritual & Service Foundation of Gujarat
President of Shri Chintamani Parshavanth Yuvak Mandal
Member of Ethics Committee of U N Mehta Institute of Cardiology & Research Centre,
Member of Executive Committee of Jain International Trade Organization [JITO]
Patron and Advisor to Ahmedabad Advertising Circle Association
Member of Executive Committee of Swetamber Murtipujak Jain Maha Sangh
Member of Advisory Committee Jivdaya Charitable Trust which is known for providing medical care to stray animals
Trustee at Major Shri Rishikesh Ramani Trust
Trustee at Parshwapuram Trust
Trustee at Sree Betalisa Visa Shrimali Jain Trust
Trustee at Jambudeep Pedhi, Palitana
More about Mr. Ajitbhai Shah on his professional front:
Ajit Bhai is founder & promoter of Gujarat's top accredited ad agency called Ajit Ads, Top ATL, BTL & OoH company called HET graphics, Anand Niketan, CBSE school-Mahesana, Avirat a financing Consulting firm, Het Construction and Ranniti, a brand strategizing firm which all have a strength of over 300 skilled professionals.
About Mr. Ajitbhai Shah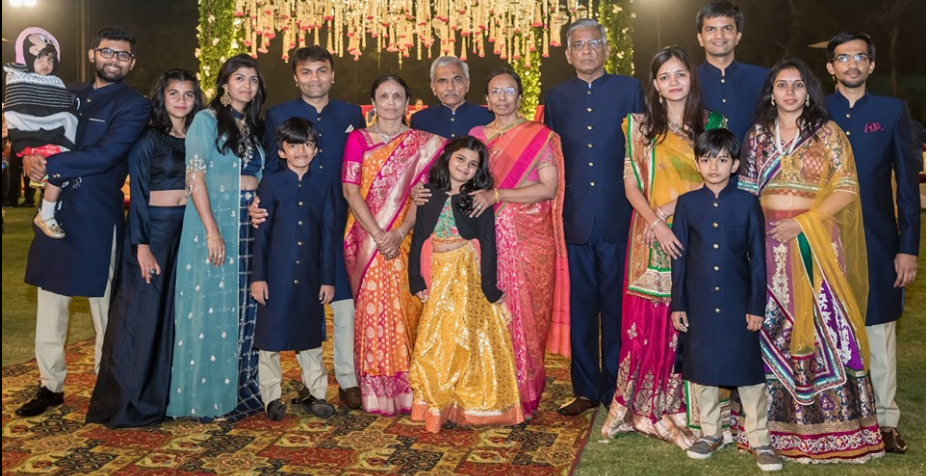 Ajitbhai Shah has completed Bachelor of Commerce (B. Com) in 1966 from Saraswati Mandir High School, Maninagar, Ahmedabad