Since 2013, Daughter Are Blessings Foundation has been helping women carve a positive self-image, ensuring that they have equal participation in decision making, whether it's in the family or at the community level, and increase their confidence level.
Ginee Wadhawan's work towards saving the girl child Daughters are Blessings Foundation, discrimination against girls in society has been going on for ages now. Even today, there are several sections where the girl child is treated as a burden. Helping women carve a positive self-image and increase their confidence level. Enabling them to develop the ability to think critically. Ensuring that they have equal participation in decision making, whether it's in the family or at the community level.
How did you come up with the idea of Daughters are Blessings Foundation?
My father used to say, "Daughters are blessings" that's what made me a proud daughter to be one and to have one and my journey to pen down quotes on Facebook began and those quotes touched an emotional cord of many people".

Ginee Wadhawan Inspiration for beginning of "Daughters are blessings"
During my experience and travel of my last job I came across a lot gender inequality be it my work place or the world outside this made me start my venture Daughters are Blessings Foundation.
The journey begins into creating a foundation for Angels who broke their wings. Together, let's empower women and girls to move out of discrimination, out of poverty, and into confidence and leadership.
How does Daughters are Blessings Foundation work?
Being a motivational speaker also I visit rural n urban areas and speak to them try giving them work as if there handicrafts or some item are approved then I link them to corporate houses for gifting. Also I do arrange exhibition in corporates and colleges for them.
Blessed to be associated with NGO's and have visited nearby villagers and motivated women of all age.
Tie up with companies who have given work to women from home and there work has been showcased in various colleges, exhibitions and also given as corporate gifts.
Have been a panelist to various women empowerment programmes.
What is your larger goal or vision?
Visions is to:
Draw people to common work.
Give hope for a better future.
Inspire community members to realize their dreams through positive, effective action.
Every girl child should know its worth because she is a blessing to the world.
What expansion plans are you looking for the next 2 years, next 5 years and in next 10 years?
When we come across people who had no confidence in their girls, we try to touch an emotional cord of people they respond to and educate to believe in their girl child.
The role of education is extremely important here and goes a long way in empowering women. The process of education has to begin early in life. The mindset that a girl is a liability needs to be changed and this requires happening at the grass root level.
"Daughters Are Blessings" foundation is on the path to change the mindset of girl child by educating them, help children find the right direction and pursue a life in positive ways.
Government can't go to every corner of the country that's when the social entrepreneur takes charge and we plan to reach as much as possible in next 2 to 5 years.
And in another 10 years, I see myself doing this good work to great heights under "Daughters are Blessings Foundation" Trust.
About Your Achievements or any success story you want to share.
We have been as "Swabhimaan Award" by Hastaksharr, a business forum for Self Made Divas (Entrepreneurs) And The work of "Daughters are Blessings" foundation influenced the founder of Hastaksharr so much.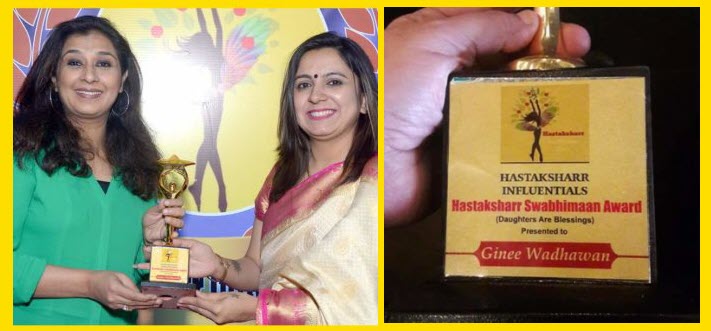 Our Facebook page has more than 5.5 lakh people connected globally.
Anything, you would like to say to our readers or fellow business people?
Accept your faults with grace. All these are from my experience of these years and everyday I learn something new which I am open to. Entrepreneurship is about blazing new trails, about believing in yourself, your mission and inspiring others to join you in the journey.
What advice you want to give to Young Entrepreneurs and Startups?
Find your passion. The most successful startups are founded by people who are passionate about what they do. Know your market, yes its very important to understand what they need and what you can provide. Have a vision, this will take you long in your career.

Ginee Wadhawan to Young Entrepreneurs and Startups