Cloud HRMS designed to manage entire employee lifecycle on a single platform
HRiS365 is a cloud-based HRMS platform with the use of modern technology and HR intelligence, it's a SAAS based easy, accurate and affordable solution that brings to you the power to manage people and more – anywhere, anytime. It is an indispensable tool not just for HR but for the entire company employees.
During discussion with Pravin and his team they said Mobility, Cloud benefits, Integrations and Open APIs, HR Intelligence via System Alerts & Reminders, Better support to clients are our key drivers for the future.
HRiS365 is already catering to 150+ registered clients managing 20000+ employees in various sectors predominately in manufacturing, IT/ITES, Finance, HR and healthcare industry.
Pravin and his team mentioned that they are working on open APIs and adding more facilities to mobile applications of Android and iOS.
HRiS365 is expecting 1 Million users by 2020 and 500+ resellers
HRiS365 has been Incubated at GUSEC – Gujarat University Startup And Entrepreneurship Council, Ahmedabad, India.
HRiS365 has been awarded by Assocham  for Excellence in Human Capital Management for the year during International Conference on ICT for #Intelligent Systems: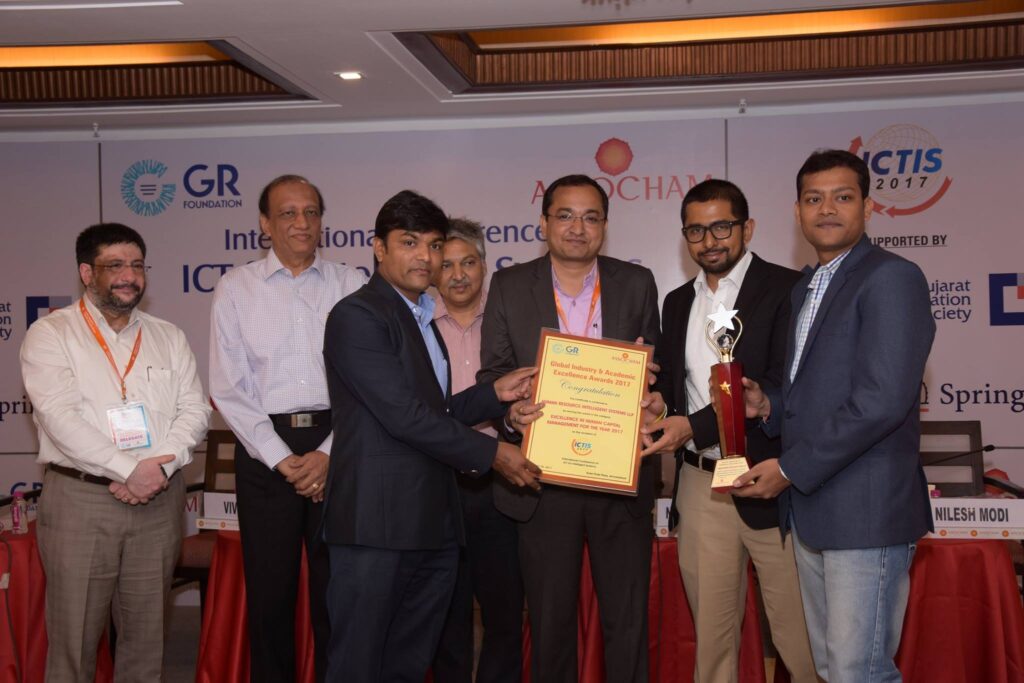 The market
HCM INDUSTRY TO BE WORTH $17 BN BY 2019
Gartner estimates the Human Capital Management software industry to be worth $17 billion by 2019 and its Growing at 25-30% Compound Annual Growth Rate.
ADOPTION
78% of CEOs plan to make changes to talent strategy, according to PwC Survey (in 2016) And now SaaS adoption rate is: 71%
HRMS USERS
There are more than 65% SMEs does not have Human resource management software, most of companies are managing their Payroll activities through Excel and other Spreadsheets.
INDIAN SMEs
There are more than 25 lakh registered SMEs in India (Total SMEs are more than 90 lacs)
India has over 500 SaaS startups, collectively earning a revenue of $600 million. This is because of the cost advantage that Indian SaaS companies offer to the global markets.
According to a report released by Google and early stage investor Accel Partner, SaaS companies in India are expected to reach $10 billion revenue mark by 2025. The report states that the SaaS products market in India is expected to cross $50 billion in the next ten years, owing to a massive demand from small and medium businesses.
About Founder of HRiS365:
Pravin B. Madalia Parmar was born and brought up in Botad, Gujarat in a farmer family and was living in his own farm during primary school. Pravin has got primary education in Municipal Corporation School in Botad.
As an entrepreneur from an early age, selling vegetables while he was in high school i.e., Std 8th till 12th in Botad Shak Market, and started the first startup at the age of 20 when pursuing BCA degree from Navgujarat College of Computer Applications.
Education side he was ranked and stood at the 4th position across Bhavnagar district in HSC and ranked in top 5 in every year of BCA in Gujarat University with the result of more than 85% every year.
The age-old saying, 'Winners don't do different things. They do things differently,' and the something which every organization needs. Based on above thinking he has chosen path of HR Software development and consulting CXO's to select right software.