Ahmedabad, India based Freshours is a micro delivery startup delivering daily needs of households like dairy, bakery, fresh produce and groceries to their doorstep every morning before 7 AM with a unique offering of No delivery charges and No minimum order requirements.
How did you come up with the idea of Freshours?
Current E-retail boom that our country has seen is still very far from touching 91% of the population. Freshours identified that the major reason behind this was no-one was targeting the daily needs market, with huge minimum order requirements and certain delivery charges charged by current options, it makes them unfeasible for daily needs, these needs form 54% of average household consumption. The other major reason was that the e-retail model is copied from the e-commerce model of flipkart and amazon, which has so many complex time-consuming steps that it does not suit for frequent purchases of daily needs. So non-tech savvies in the higher age group who form the largest decision makers and target audience for the segment were completely left out. Freshours was formed to solve these problems.
What problem Freshours is solving?
Freshours solves the major problem with current retail options. We provide completely free delivery for even an order of Rs 1/-. Which makes us the only option to purchase your daily needs which cannot be hoarded, are unplanned and are frequent.
How does Freshours work?
You can order anything from Freshours in two taps. Add anything you want to your cart throughout the day anytime till 12 AM midnight. You can make any number of changes till the midnight cut-off time. Nothing else needs to be done. Whatever is in your cart at the cut-off time will be auto placed and will be delivered to your doorstep before 7 AM in the morning. You can recharge your wallet using cash or online payment and use the services till the balance lasts.
What is your larger goal or vision of Freshours?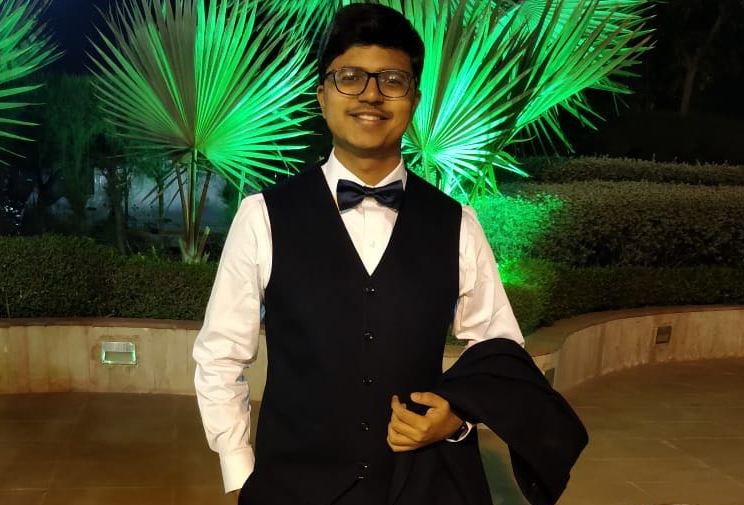 Freshours should be as basic as having an electricity connection to your house. Freshours wants to be that shop for everyone where they first look for buying anything and they know that they can trust the shop for quality, pricing and hassle-free experience.
Freshours wants to be present at a distance of finger for 10 crore people living in urban India.

Karan Tankshali's vision for Freshours
What is your target for Freshours?
Initial target market are families in middle- and above-income segments of Ahmedabad city, with an expansion scope to tier-I and tier-II cities across India
What is the revenue model of Freshours?
Freshours has two primary revenue sources, one is the margin Freshours earns on the products it sells, the other income source is through consumption data that Freshours provides to analytical agencies and companies for research purposes and to farmers for cultivation estimates.
How do you plan to market Freshours? What are your customer acquisition strategies?
Freshours believes in word of mouth marketing strategies, one highly satisfied customer is 5 times more effective than any salesman in customer acquisition and retention. Other programs that Freshours uses are Freshours ambassador programme and social event sponsoring at society levels, newspaper advertisements and many more.
Who is your biggest competitor and what is Freshours's competitive advantage?
Bigbasket is one of the biggest competitor, although our target audience is same, our offering has quite a few advantages, we provide all the deliveries at completely zero delivery charges, even an order of Rs 1/- is delivered for free. We have strong tie ups with Local farmers that makes our quality stand apart and has lowest farm to home time. We have exclusive partnerships with famous brands of Ahmedabad which makes our product listing more appealing. Our customer relations and marketing strategies are far better as they are integrated with local culture and mindset
What expansion plans are you looking for the next 2 years, next 5 years and 10 years?
For the next 2 years we want to focus on 70,000+ target houses of Ahmedabad only and expand to 2500-3000 fast moving SKUs, after that we would be looking for expansion in other markets
In next 10 years, Freshours will be delivering 10 million deliveries a day.

Freshours in next 10 years
Share Freshours's Success Story
We wanted to build a service which is loved by all and is so easy that everyone should be able to use. Freshours is proud to say today that out of 1800 customers that we have 28% are first time e-commerce users. Freshours has been able to get 87% retention rate with 4.91 satisfaction ratings.
What was the most challenging part of your journey till now? How did you overcome those challenges?
The most challenging part was to find believers in Ahmedabad, be it customers or be it employees, Ahmedabad is not easy to crack as said by legends of Indian retail. Making people convert from their conventional shopping habits to an online ordering system was tough initially. Finding good employees for a startup is equally tough in cities like Ahmedabad when compared to Bangalore or NCR.
What advice do you want to give to Young Entrepreneurs and Startups?
Never give up! Follow the goals and enjoy the journey!

Karan's message to Young entrepreneurs and startups