Curio O Box is a company founded to transform Science learning from Rote to Real. They have designed, developed & assembled Innovative Kits based on 'Hands-on-Learning' methodology which is most suited to the Indian schools.
Curio O Box is into a very unique concept where they focus to learn by Experimenting which develops the Scientific Temperament in Child and develops problem solving attitude.
They have designed a very unique content for each grade and age group keeping in mind grade level understanding and each topic is mapped with unique hands on activities.
How did you come up with the idea of Curio O Box?
Our schools have a common complaint, that they don't have time to include anything beyond their regular curriculum. In the same vein, schools may find it difficult to introduce "Hands-on" science activities to every student. We have strong conviction that Doing science is not just beneficial, but absolute necessary to know science in its spirits. Showing science experiments by teachers or using modern tools like virtual labs and e-learning software is not adequate to develop habit of experimentation or gain confidence of doing things by hands.
"The reason why 3 idiots film became a huge success in India was mainly because it depicted the flaws in educational system, the major drawback being the bookish learning it promotes."

Kushal Thakkar on education system
Rote learning still plagues our system. Students study only to score marks in exams, and sometimes to crack exams like IIT, JEE, AIIMS or NEET. The practicality of the subjects remains unknown to the students even when they have a graduation in hand. The colonial masters introduced education systems in India to create clerks and civil servants, and we have not deviated much from that pattern till today. Our education system is geared towards teaching and testing knowledge at every level as opposed to teaching and testing skills. The goal of our new education system should be to create entrepreneurs, innovators, artists, scientists and thinkers who can establish the foundation of a knowledge based economy.
What problems Curio O Box solving?
Every time Child take home the model they designs as we don't want them to stop Innovating which is always seen when they carry the model home. We believe is simple format of learning which is divided into 3 phases BUILD-APPLY-LEARN which is widely accepted and loved by kids and parents.
How Curio O Box works?
At Curio O Box we are focused to make foundation level education more application and experience based. We focus on methods like Do It Yourself kits and Hands on Learning which are most optimum methods for Experiential learning As children begin to apply what they learn, there will be more doers, more scientists, mathematicians and biologists from third world who will do outstanding work in their chosen fields.
We design and conduct workshops and science sessions for schools and companies. Also we have our own innovation centres spread across Gujarat.

Curio O Box
Share your Success Stories:
"We have impacted over 1 lakh children spread across over 900 schools and other institutions since inception"

Success Story of Curio O Box
Following are some of the examples of Curio O box activities:
Experiential way of teaching children about Air Transport. Children are making different version of air crafts and glider. They understand the engineering behind the craft parts. They understand the science and logic behind how does it flies.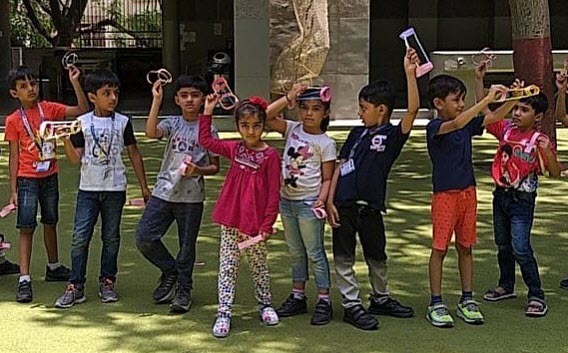 STEM WITH PARENTS…it is amazing experience when parents and children together do STEM as it creates a different level of bonding and activates knowledge sharing. All parents must attend STEM course as it also upgrades parents knowledge and skills.
What is your target market?
We work with Schools, Parents, Kids and some Business organizations to make Science easy and Fun. We create experiments, activities and gadgets to open young minds to Science in an exciting and engaging way.