There are Awards and there are Awards. But none like IBG Awards. Mayor of Mumbai Hon. Smt. Kishori Pednekar was chief guest. It may not be like the 'made for TV' awards functions but down to earth and real. The Awardees selected are winners in their own domains, mostly business (After all IBG is a serious business chamber with over 1000 members) which reaches out to around 80 k business people in Mumbai, the economic capital of India . The IBG Award has created an aura of its own. Members as well as general business people wait in anticipation and expectation, and of course hope they will be the one.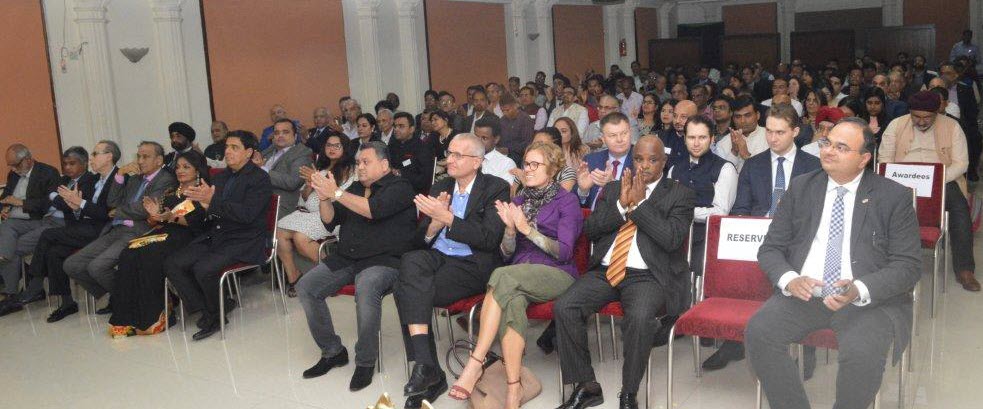 We get so many calls to consider them for the award. We get so many unsolicited biodatas and company profiles and achievements for consideration. We diligently peruse each them.
Awards are more than just a piece of wood or metal. They are acknowledgments of achievements, of thoughts and actions that led to success in endeavour. It's not just the success of earning money. It goes beyond. Everyone works hard. It's just that some work harder, or smarter, or don't give up in face of difficulties faced.
An Award is an uplifting amidst peers, among competitors too. An Award brings self-satisfaction, self-confidence, makes you set your goals higher for the future. Many work to win awards, many to succeed and their efforts to be recognised. A lot can be said for an Award. Awards are sublime, they transcend
IBG Awards stand out. This year's awards saw over 200 in audience, including the awardees themselves, their friends, relatives and colleagues, IBG members and general business people who hope to be the next years Awardee
A brief mention here about some of them  
Ronnie Screwvala
Received the highest achiever award. He runs so many businesses and so successfully. His remarks were 'I will have to strive to live up to this recognition, though we all know he is higher than most awards he gets.
Rajyalakshmi Rao
Her story is heard to be believed. She rose from such humble beginnings to what she is today. When she narrated her life journey, it brought tears to my eyes.
H. E Mr. Demeke Atnafu
I find him one of the most active Consuls in Mumbai with untiring efforts to promote his country Ethiopia. And so many others including IBG members.
| | | |
| --- | --- | --- |
| Category | Name | Profile |
| Knowledge Leadership | Mr. Richard Rothman | Managing Director at OpenMind Opportunity Consultancy Pvt. Ltd. |
| Expat Business Excellence | Mr. Martin Kriegner | Director at Ambuja Cement |
| Honorary Consul | Dr. Gul Kripalani | Consulate General of the Rep. of Iceland |
| Government | Mr. Sumit Mullick | Chief Information Commissioner, Govt. of Maharashtra |
| StartUp | Nykaa | Chief Business Officer – Nihir Parikh |
| Entertainment | Mr. Kunal Vijaykar | food writer, author and television personality |
| Finance | Mr. Shom Jagtiani | Director -Polymath Advisors Pvt. Ltd. |
| Legal | Ms. Khushnuma Khan | Solicitor – K. K. Associates |
| HR | Mr. Dolphy Mascarenhas | Founder & CEO – Global Recruitz |
| Travel & Tourism (Cruise Tourism) | Mr. Arvind Tandon | Director – ARK Travels Pvt. Ltd |
| SME | Mr. Kasyap Dalal & Mr. Anshuman Agarwalla | Director -TechSolar Solutions Pvt. Ltd. |
| ART | Mr. Rishiraj Sethi | Aura Art Econnect Pvt. Ltd. |
| ART | Ms. Rashmi Pitre | Artist |
| Debut Enterperneur | Mr. Rohan Moktali | Founder & CEO – Aaditas HR Advisory Services |
I invite aspirants for the IBG 2021 Awards to keep us updated time to time on their progress, their journey.  Be involved with IBG, become a member and avail of IBG benefits, including the interaction with the government Ministers and Secretaries. Our deep connections with Foreign Consul Generals, IBG fortnightly meetings and events, and so on and so forth.